The Women's Motorcycle Club of Lynnwood Cycle Barn (CB-WMC) had a relaxing and sunny weekend at
Doe Bay Resort
on Orcas Island. Frequent blog lurkers will know that this is one of my favorite places in the world.
Our ride began with one rider (Elsa) on Vashon Island, who then met up with Josepha, then Stephanie, then Denita and Leslie. Three Triumphs, a V-Star and a Shadow make good time up I-5 to catch the 11:30 sailing to Orcas Island. There was a bit of miscommunication with a ferry worker who told us to go ahead then threw her arm out in front of us just as we were getting on the apron. Oh well. The ferry ride was lovely otherwise, and we touched down at Orcas around 12:40.
You can get almost anything worth eating at the Island Market in Eastsound, so we did. The weekend's menu included caesar salad, spaghetti with porcini mushroom sauce and italian sausage, and yogurt, cantaloupe, scrambled eggs, bacon and orange juice. There were other dishes I can't remember. Suffice it to say that travelling with the Vixens (our unofficial name) doesn't mean sacrificing quality.
Our cabin, Children's, was lovely.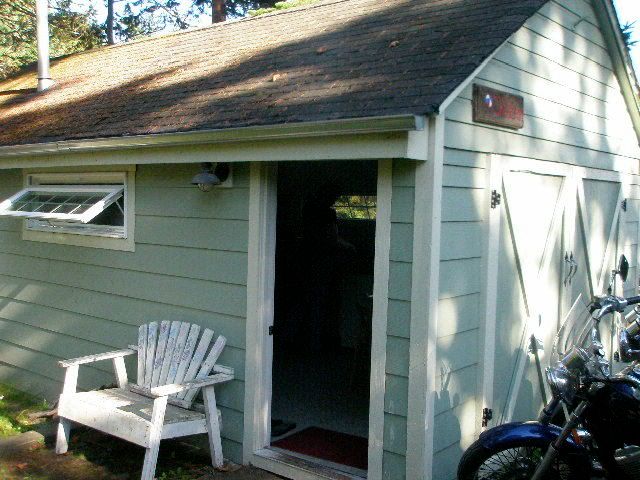 We had room to sleep eight people on four beds/futons, as well as a galley kitchen. This cabin is located in the heart of Doe Bay near the road and office, but it was quiet and peaceful. It's also the cabin with the door closeset to the trail to the tubs!
We even had off-road, private parking: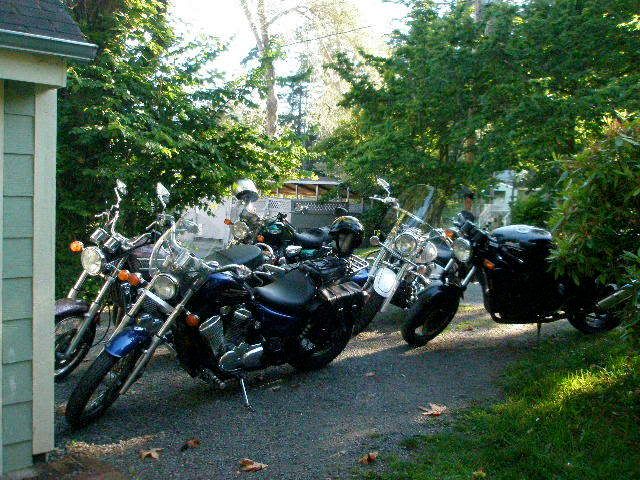 Our first night was calm, as we'd already ridden plenty. We enjoyed our dinner and a soak in the tubs.
Saturday morning, the fog had rolled in. As ride leader, I made an executive decision: we would tub in the morning, and head out to ride the island when we started feeling lunch-ish. Coffee was obtained with only minor difficulty, and the morning was off to a great start.
Our second-day ride this year was an exploration of Orcas Island (last year we went to San Juan Island). From Eastsound, we went west on Enchanted Forest Road to Crow Valley Road. Crow Valley is the valley that can be seen on the left from the main road as you go from the ferry to town. It was curvy, and quite a treat to see the valley from the west side.
We rambled out to Deer Harbor, turned around, and then took the highway back to the ferry dock, where it becomes Killebrew Lake Road. Lots of good winding road here, and a cool lake, but right after the lake the whole thing goes to gravel. It didn't seem worth it to take an unknown gravel road, so we turned around and headed back to Eastsound, then through Moran State Park, and then to the challenge of the ride: Mount Constitution.
I must say that every rider did an incredible job navigating the many steep curves on this road! Novice to pro had no trouble keeping things moving right along. The view from the top always makes the concentration worth it: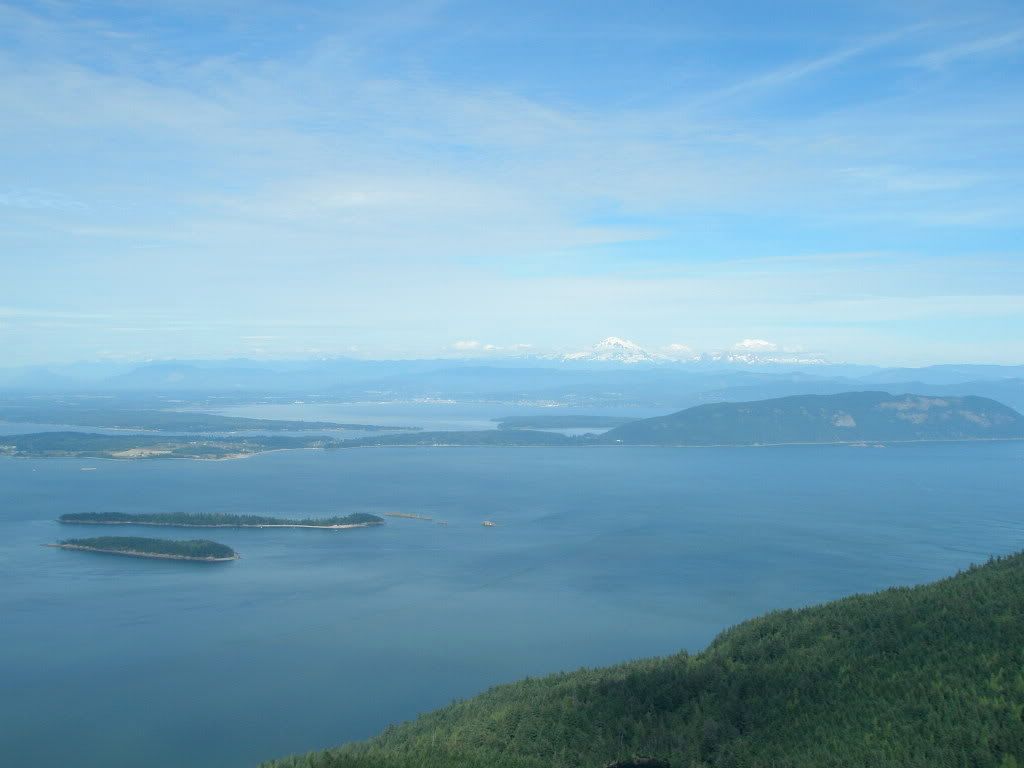 Our evening was peaceful, with each person tubbing, reading, listening to music, whatever was their pleasure. We turned in relatively early (for us) and woke rested.
After again procuring coffee, as well as breakfast in the cafe, we packed leisurely and several of us hit the tubs one last time. We made our 11:00 departure time, hung out in Orcas, and then caught the 1:20 boat back to Anacortes. The ride home was uneventful, except that none of us wanted the trip to be over.