Previous Entry :: Next Entry

Read/Post Comments (1)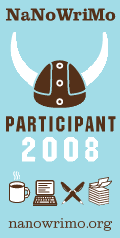 2008-11-07 2:35 PM
The Daily Buzz
Did anyone see the Daily Buzz this morning? The sunset photo from the top of my page was shown on it this morning! I submitted it about 2 weeks ago and they finally showed it! Of course, I asked them if they would let me know if they were going to use it ahead of time, and what did they do? They emailed me at 4 am to tell me it would be on at 8am. Um, thanks, I guess. Anyway, my boss came in to work this morning and said he saw my picture!

Ok, so that's my big news of the day ;-)



UPDATE: If you scroll the bar to 2:08:29, Mitch gets ready to do the weather, but shows my picture right before it! he calls it a sunRISE instead of sunSET, but who cares, right?
Read/Post Comments (1)
Previous Entry :: Next Entry

Back to Top