this is probably one of those stories that will be a "you had to be there" story, but here goes...
when i went back home this summer, we went to my middle sister's house. she lives out in timbucktoo, which to everyone else would more accurately be Dora, Okla, population them...well, more than them, but probably no more than maybe 200 folks. it's one of those small towns that is more "township" in the form of a wide space in the road.
their house is pretty nice for one of those out in the boonies type of houses, full basement and about ten to twenty acres. my middle sister (j) is quite the country girl, so much more than my older sister (c) and i. c removed herself from the south at the tender age of 20 and never looked back (she's now *clearing throat* 50-something) our family never were "country folk" my dad never hunted or fished and his idea of the "great outdoors" was mowing the front and back yards. c is such a city girl that she had to ask me what brushhogging is...
at any rate, we go to j house to see it. c and i hadn't ever seen it before.
on my first trip to their bathroom, i notice the little coca cola doll they placed in the corner (as seen in the pic above) my brother in law, d, is a coca cola collector and this is one of his favorite things.
when i came back from the bathroom, i said how the little doll kind of creeped me out. i've seen way too many movies with crazy evil killer dolls (ooooo, oooo, remember the one with Karen Black? her friend brings her back a doll from some african nation and tells her not to remove the necklace. she does and next thing she knows, the doll is slashing her achilles tendons from underneath the couch?)
c, also a horror movie fan, and more than a little mischievious, hops on the evil doll wagon and we begin to go to town, joking and laughing about how one day j will wake up with the doll standing over her in bed, holding a knife. to which j thanks us for making her paranoid of something she'd never even thought of before.
before we left that afternoon, c pulls me aside and suggests one of us sneaks into the bathroom before leaving and turn the doll around so it's now facing the person (as they sit on the toilet)
since i'm the bathroom queen, i volunteer. i go in the bathroom and turn him around, but i thought, that's just not good enough. i sneak back into the kitchen, to relieve a knife from the drainer, but j and d both were just feet away with their backs to me and i couldn't risk making noise and calling attention to myself.
i went back to the bathroom and rummaged around. i finally found a razor which i promptly stuck in chucky's little innocent hands.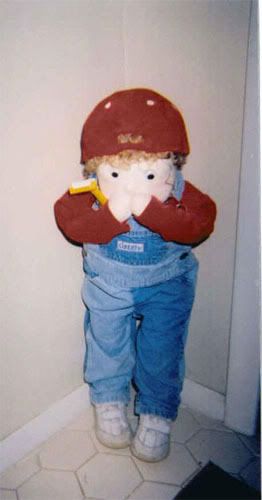 when c and i finally collapsed in the backseat of the ole town car, through rolling tears of laughter, we explain to the parental units what we had done.
my father remarks that it's probably a good thing that c and i don't get together more than once every five to ten years.
it took about an hour after we got home for j to call. she was laughing so hard she could barely talk. i believe she mentioned something about peeing her pants.
oh good times, good times.
ah, see? ya just had to be there.