it's been awhile since i've done one of these, but we have been movie watching fools. the ratings key is in memory to my dear departed Yashakins (Yasha Illya Samsonov) hopefully one day i can find an adult picture of him to use, but damn, he was a pretty cute pup.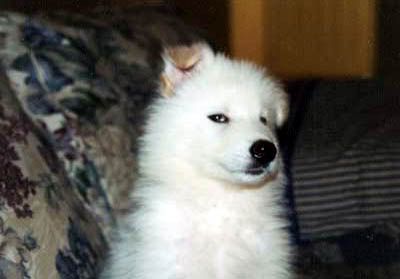 the key goes, one, two, three or four paws up. if it is an exceptional flick, four paws up and a tail wag.
here we goooooooo....
Oldboy
:
i've talked about this some before in other posts (and people's journals). a korean film, spoken in english (not dubbed) this is the second movie of a very unrelated revenge trilogy. kidnapped off the street one night, a man finds himself being held prisoner in an apartment for fifteen years. fifteen years to the day, he is released, with no explanation given for why he was held captive. he begins a quest to find the truth which eventually leads him to an unsettling discovery. faced with "damn if you do and damned if you don't" in the end, he chooses what he feels is the lesser of two evils. this movie is not for goodie-goodies as it deals with a pretty taboo subject.
we give this one four paws up.
House of Sand and Fog
:
i read the book several years ago and loved it. however, the movie was long, boring and drawn out. it does stick to the book, but without the benefit of the internal thoughts of the two opposing characters, it's just plain boring.
two paws (at best)
Mr. Bean's Holiday
:
i was excited about this one because i'm a big mr. bean/rowen atkinson(sp) fan. he's so funny and most of his other movies were hilarious (not to mention most of his series). mr. bean is quite the modern day equivalent of charlie chaplin...no words really necessary, just grunts and moans and in this film, an occassional oiu (or even gracias). every funny scene you see in the previews is just about all the funny scenes in the movie. i can't tell you my disappointment in this one. such high hopes that weren't delivered.
two paws at best.
Ocean's Thirteen
:
i'm a big fan of these films with their kind of "to catch a thief/bondish" feel. clooney and pitt's characters (danny and rusty) play off of each other so well, they have such good chemistry. in this one the elliot gould character is screwed over by pachino's charcter and ends up having a stroke. the crew come together to exact their revenge. full of fabulous one liners, twists and turns and even an organization of mexican workers resulting in a riot, this is probably the best of the three. i hope they keep on doing these.
yes, four paws up and a tail wag.
Smokin's Aces
:
this is my kind of flick. quenten tarentino-ish, with a second-string-star-studded cast. a vegas mob boss wants the heart of entertainer-mob-wanna-be "aces." the fbi, bounty hunters (with ben afflack doing one of his cameo appearances), and four groups of assassins all converge on lake tahoe to collect the million dollar payoff. alicia keys was fabulous (brittany and mariah need to take note of how it should be done) it of course all comes down to a major cluster fuck of guns blazing. enjoyable (but bloody) movie.
because some parts that didn't make sense and there was some confusing bits...this one gets a three and a half paws up (but worth a watch)
Bourne Ultimatum
:
the third (and last) in the bourne trilogy. by now, to me, it's just a bit tiresome. maybe if i could sit and watch all three back to back instead of having too many years in between each one, this was the weakest. i think the first was probably the best, the iceback, i believe, liked the second one the best, but if you're looking for some mindless, action entertainment, not bad. i think the most impressive thing is that, especially in this one, the bourne character shows how much instinct was instilled in him in his training. he never thinks, he just reacts and does. i was a little disappointed in the ending, and so i won't give a spoiler, especially where the nikki character is concerned (i have a major question about that) and they are too ambiguous on bourne and nikki's past relationship.
we give this a three paws up.
Live Free or Die Hard
(or is it the other way around?):
now, i'm not a big die hard fan. the first one was ok, because quite honestly, bruce willis makes the character. i love his wise cracking ways. the two in between, i could live without. but i have to say i quite enjoyed this one. very modern day subject, and i loved the character ferrel, played by the Mac guy on the Mac and PC commercials. we also see that McClane's daughter is just like daddy. of course, it's quite unreal all the that crap happens and that McClane has more lives than a cat, like a timex, he takes a licking and keeps on ticking, but it is afterall, just a movie meant to entertain, and it does just that. to me, the best of the die hard movies.
this gets a four paws up.
Jet Li's Fearless
:
the iceback loved this one, but to me, this was one of the weakest Jet Li films. perhaps also, it's because we've watched quite a few other martial arts films from china that were much much better as far as story and asthetics. the moral of this tale is, always keep your ego in check because in the end, it will get you.
two paws from me.
House of the Flying Daggers
:
i loved this film, beautiful cinematography. it's like a wonderful painting on film. everything was meticulously choreographed, with such an attention to eye pleasing asthetics. a love triangle with a few twists and surprises. and of course, full of difficult decisions. this director is a genius in my opinion (the director of "Hero" also a damn fine film!)
this gets a four paws up and a tail wag.
ok, well, that's it for now.
enjoy the shows!
;-)