No, this is not about
Sex in the City
. Never seen it, and have no real desire to.
This is about
Square Pegs
.
---
I had the misfortune of being a Child Prodigy. I was incredibly intelligent and intuitive and had parents who encouraged these qualities. I mean, how many five year olds did you know who said they had to go potty by asking to use "the facilities"?
People were amazed by what I was capable of doing at such a young age. Unfortunately, I didn't stay five. I was 23 when I realized that I was no longer a child prodigy and that people actually
expected
me to produce quality work.
It was a terrifying experience. My identity revolved around surprising people, and if they
expected
good things of me, well, what if I weren't as good as they expected? What if I failed? Who would I be?
Somewhere along the way, my focus shifted from producing to marketing. This wasn't something that happened overnight. Even before my shocking discovery that I was an adult, I carefully -- if subconsciously -- seemed to choose those goals and activities where I was most likely to excel, and I honed my charm to fill in whatever gaps there might have been between my performance and perfection such that people
thought
that I did much better than I
actually
did. Thus the Myth of Rachel was born.
Shawn was the one who dubbed this phenomenon the Myth of Rachel, and he was the first one who questioned whether it was a healthy way to live my life. Slowly, I learned new ways of experiencing life, rather than merely constructing a narrative performance. Still, my neuroses linger.
A few weeks ago, I remembered how, in high school, I'd wanted to be a professional actress. There were a few reasons why I chose not to pursue that path. One was because I knew that I'd have to commit 110% of myself to that end if I wanted to be successful, and there were too many other things I wanted to do with my life. Tied to this was my fear of closing doors -- what opportunities would I miss if I were concentrating on a single goal?
And then there was Sarah Jessica Parker.
When I was going to high school in the early to mid-80s, Sarah Jessica Parker was everywhere:
Square Pegs, Footloose, Girls Just Want To Have Fun
-- and all these roles were the same ones that I would be up for, because of our ages and because of the type of character I most easily played. Since she was already established, why bother?
So it's 2003 and I'm thinking about this, and I suddenly realized how self-defeating that was. I never thought of it as a challenge. I never thought that, as she became more famous, she'd become more expensive so that studios would
want
someone new. I just knew that I wouldn't be automatically unique, so I turned away.
It was this understanding of what I'd done that showed me that I still sabotage myself like this. I sometimes spend so much energy worrying if I can live up to others' expectations -- real or imagined, and most often the latter -- that I have little energy left to actually
do
anything productive.
Kind of silly, isn't it?
I feel a lot better for having seen this, stronger and more secure in myself. It's the proverbial weight off my shoulders: if I concentrate on actively growing and learning and playing and doing, then the odds are that, somewhere along the way, I may actually produce something that others may find of value. Maybe someday I'll consider myself a real writer. Maybe I'll help bring about world peace. Maybe I'll have a real garden. And if not, at least I'm enjoying my life.
And yet, for all my new confidence and ambitions, there's still a tentative, shy quality about it. And there's a part of me that wants to go back and find that little girl, that young woman who was so afraid of not being Amazing that she wouldn't even try, and hold her, and tell her she's loved, and everything's going to be okay.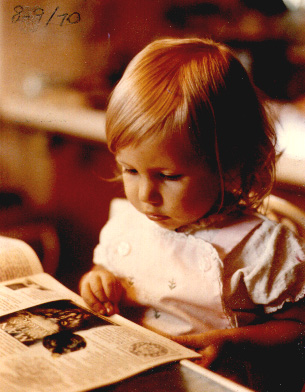 ---
QotD
For the concert of life, no one receives a program.
-- Dutch Proverb