I did it!
After four weeks of looking for black, split-sole ballet shoes in my size, I had my first lesson yesterday!
It was a lot of fun. Apparently the "Adult Beginning" class was a bit more advanced than some of the others, but I followed along pretty well. At least, I managed not to trip or kick anyone else. And the teacher said I had "very pretty feet."
I think I pulled a thigh muscle.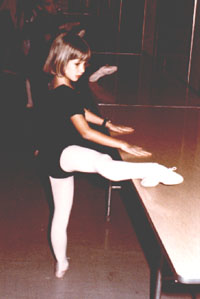 ---
Since my car was in the shop, getting its brakes worked on, I decided to see whether or not I could, in fact walk to work. Yep. I couldn't feel my face by the time I got up the hill (the wind is
fierce
up there!), but it was a nice little hike. It had snowed a bit overnight, so the wooded area I cut through was blanketed in a half-inch of white with sprigs of grass and little green things and pretty yellow flowers peeking through. It was lovely.
---
In other news (and I apologize for the short notice), if you're in the LA area tonight and looking for some free entertainment, Aaron's movie,
The Yellow Sign
, is screening at 8pm. For more info, check out the
details
.
---
QotD
The tragedy of life is not that it ends so soon, but that we wait so long to begin it.
-- W. M. Lewis