For the record...
I agree with the principled stand by USA-based organisations/companies/websites such as Wikipedia, reddit, the Free Software Foundation, Google, the Electronic Frontier Foundation, imgur, Mozilla, in their "black-out" on 18 January 2012 (US Eastern Standard).
Other websites have chosen to provide coverage, or make commentary, on the matter.
As xkcd.com said today, so eloquently (and, thanks!): "A message from sysadmins everywhere: Seriously, don't screw with DNS. If you break the internet we are not making you a new one."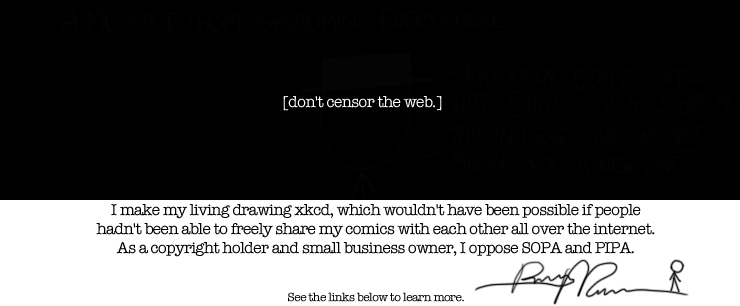 Learn more:
EFF:
One-page guide to SOPA
reddit:
A technical overview of the SOPA and PIPA bills
DYN:
How these bills would break DNS
EFF:
Free speech on the web
Act:
Contact information for US elected officials
The "WVhillbilly"
put it like this
:
"SOPA/PIPA is burning the barn down to get rid of the rats.Three problems with this:
1 You lose the use of the barn
2 The rats just go elsewhere and infest some other barn
3 There are many and much better ways to get rid of rats than burning your barn down."
Note: This post is dated/timed just after the black-out ends.
_____
Peter