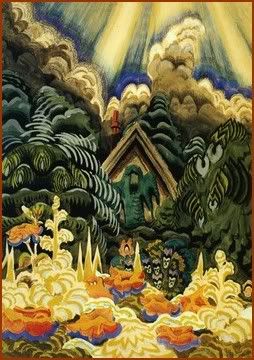 Wallpaper is one of the excellent time wasters of computer living. My desktop displays a new painting every thirty minutes. When I get tired of the offerings from my gallery I amuse myself by visiting some of numerous online art collections.
Let's see, I need a couple Van Goghs. And while I'm at it I'll take that Sisley, and a Klimt and how about a new Monet? Maybe it's time I changed those water lilies for some haystacks. Oh, look at that Munch! I never knew he did snowy landscapes, and there's no one screaming about the snow either. (like I was all winter) I'll take it. It's spring now. I can stand some snow on my desktop.
Isn't the Internet fun? How much would that set me back in the real world?
Mostly I go for modern figurative art. I am literal minded. I love Edward Hopper's emphasis on light and shapes and Pierre Bonnard's colors, but I'm not sure I could appreciate those qualities without the bit of representation they use. I need some structure -- something to hang the experiments in color, shape and light to -- and the depiction of reality gives it that. The structure of abstract art is often more subtle.
Also, figurative art looks better on my monitor. At least to my eye. The element of representation remains in the reproduction however much color, texture, scale and so forth might be lost. Looking at a .jpg of a painting isn't very much like seeing it live. It's remarkable how many variations of a work can be found on the internet. The colors are practically never the same and sometimes barely similar.
Anyway, up at the top is a Charles Burchfield I found. He wasn't painting with the Windows desktop in mind. I wonder what he'd make of his art being hung inside my monitor with a few icons stuck down one side?