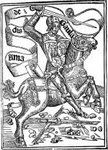 You never know what's going to turn up on the Internet. It's an infinite attic filled with treasures and curiosities you never expected to see or never knew existed. A couple days ago I pulled a copy of Joseph Major's excellent fanzine
Alexiad
off of the eFanzines website and what did I find behind it (well, mentioned in a letter in the current issue) but Amadis of Gaul.
I immediately recognized it as a legendary medieval romance, though I'm not quite sure where I came by my knowledge. Most likely Lin Carter rhapsodised about Amadis in an introduction to one or more of the Ballantine Adult Fantasy series he edited in the sixties and early seventies. That was a fabulous collection of books. I owned most of them. Alas, Amadis, precursor to so much other fantastic literature, never made it into one of those gloriously covered paperbacks.
Now, however, Sue Burke has undertaken a new and eminently readable translation which she is posting to her Amadis of Gaul blog. As explained on the blog:
Amadis of Gaul. Published in Spain in 1508, this novel is a masterpiece of medieval fantasy. It inspired a century of best-selling sequels in seven languages and changed the way we think about knights, chivalry, damsels in distress, and courtly life in castles. These books made Don Quixote go mad and imagine himself a heroic knight-errant like Amadis.

Read a newly translated chapter each Tuesday and a commentary on the novel each Thursday.
The blog is beautifully illustrated, the historical commentary is fascinating, and since Sue has only got up to chapter 10 there is still time to jump in and catch up on the highly entertaining story. If you're interested in either history or fantasy you won't want to miss this.