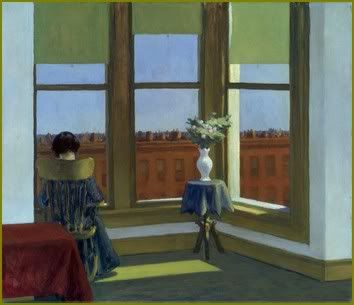 Edward Hopper's Room in Brooklyn reminded me of the view from the living room of the Cobble Hill apartment I lived in when I was going to law school during the late seventies. I was on the fifth floor of a brownstone. There was a small park in front and on the other side of the park sat a row of lower structures, what had once been carriage houses. Looking out my window I had the same view that's shown in the picture, out over the roofs of red brick buildings to the city beyond. Lots of sky, a feeling of height and space and light. Except that my windows were different, Hopper might have sat in my living room to paint do that painting. Did the place smell like turpentine when I moved in?
Currently, from my office window, I see an uninspiring patch of our neighbor's yard. He seems to be using it mostly to store a collection of snowmobiles. While I was growing up, my bedroom window was largely blocked by an overgrown rhododenron. I don't remember seeing much of anything but darkness from the window of the bedroom in the house where my family lived when I was commuting to college. Usually I was only in there while staying up half the night.
Out the front window of my place in Rochester I saw mostly the small, but every expanding, maple tree that some previous owner had (unwisely I thought) stuck in the middle of the postage stamp sized lawn. Then there was the place I rented which looked out on a car lot.
I think the view from that Brooklyn apartment was the best one.