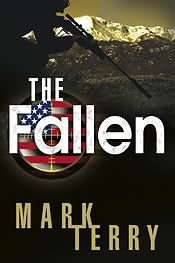 (I'm pleased to have a guest blogger today. Mark Terry is author of the Derek Stillwater novels and other thrillers. His upcoming novel, THE FALLEN, featuring Homeland Security troubleshooter Dr. Derek Stillwater, will be published April 5, 2010. He ponders something I've wondered about -- differences between men and women readers.)
There's a certain dogma among the publishing industry that men don't read. Well, I'm a man and I'm a voracious reader. Still, I understand where their thinking comes from. Men seem much more likely to watch sports or read a magazine than to cozy up to a novel. Don't really know why. Is it true then that more men/boys read science fiction and fantasy? (The statement that readers of science fiction are "adolescent boys with poor social skills" has some truth to it, no matter how harsh it sounds). And certainly the predominant readers of romance novels are women.
I had a phone conversation about some marketing nonsense, er, marketing plans today with my publisher. She gushed a bit about my upcoming novel, THE FALLEN, and told me how much she loved it. Then she threw out a line I've heard a number of times from female readers: "And I gave it to my husband who doesn't read much fiction, and he ripped through it in two days and absolutely loved it."
Yeah, I responded. It's a guy's book.
Which is not to say that women don't like my Derek Stillwater thrillers. I've had a number of women say how much they liked them. But still, novels that in many ways resemble the Jason Bourne movies or the TV show "24" apparently have a stronger response from men.
Personally, I don't like to lump books and readers that way. I do understand that, yes, apparently books with a lot of action tend to appeal more to men than women, at least from a very broad perspective. But exclusively? Well, I hope not. I want to appeal to as many people as possible. And I don't really think of writing for men or women when I'm writing. Mostly I'm trying to entertain myself and figure if I do that, I'll entertain the readers, too.
Still, here's something of an anomaly. My first published book, CATFISH GURU, which is a pair of mystery novellas featuring Dr. Theo MacGreggor, a toxicologist, was published about 10 years ago. The second novella, CATFISH GURU (the first is NAME YOUR POISON), intentionally has a very ambiguous ending. I apparently wrap up the mystery nice and neat, then in the last page or two bring up some more evidence that throws the early conclusions into doubt. I wouldn't recommend this for all books, but from time to time a little ambiguity is nice. What's interesting to me, is over the years when I've talked about this story with readers, the question comes up: who was the real killer? Was it the man or was it the woman? (Most of the time I know, but I ain't tellin').
And here's what's interesting: women think the woman was innocent and men think the woman was guilty. Almost always.
Thoughts?
Visit Mark's website .
Check out THE FALLEN at Amazon.com.