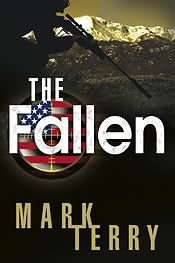 (I'm pleased that Mark Terry is stopping here on his blog tour. Mark's new thriller, THE FALLEN, featuring Homeland Security troubleshooter Dr. Derek Stillwater, is just out and it's had great reviews. Mark talks about a subject that's very important to me as a writer -- research.)
I was recently accused - accused, I say! - of being a meticulous researcher. Apparently my friend Stephen Parrish finds some of the details in my latest novel THE FALLEN to be such that either I'm a spy or I do a lot of research.
Although I can neither confirm nor deny the spy thing, I guess I do a lot of research. It just doesn't seem like it to me. Maybe because there's always more I can find out.
When Barry Eisler writes about Japan - or Rio! - he goes there. (Yeah, tough job, Barry). When Daniel Silva writes about the south of France, yeah, off he goes.
Me? Well, if my hero character is in Washington DC or Detroit, yeah, I've been there. In THE FALLEN the action pretty much all takes place in a huge resort outside Colorado Springs. The resort is fictional, although it is based on an actual place. And although I haven't been there, I have been to resort hotels, I have been to Denver (though not Colorado Springs) and I did talk to people at the resort, which although it has not hosted a G8 Summit, had hosted a UN Security Summit.
Now, Eric and Mary, my hosts here today, do a lot of research. And unless they've developed a time machine, it must be pretty much all book research. And I can see, taste and smell 6th century Byzantium when I read their books. Some of that's research. Some of that's imagination and good writing.
Some of it comes down to this: when you have a question, get an answer.
For instance, I don't know much about guns. At least, not from a practical hands-on perspective. In THE FALLEN, the bad guys are using MP5s. So I read a lot about MP5s. I found out about their settings-single shot, semi-automatic, and full-automatic. I read descriptions and specs and looked at pictures. The same thing about HALO jumps (high altitude, low opening parachute jumps). I read accounts of Special Forces soldiers who had performed them and what it felt like and what the problems and limitations are.
If I have a question, I try to get it answered. If I can. I read. I ask experts. If it's do-able, I visit a location.
And I fake it. Oh yes, I fake it.
One of my favorite novels is BAG OF BONES by Stephen King. The narrator, a novelist, hires a freelance researcher to provide him with a "little bit of detail." Because, he says, that's all he wants, just enough to convince the reader of the reality of what he's writing about. I'm so there.
How about you? Do you research? What kind? And as a reader, how important are the technical details?
For more about THE FALLEN, including sample chapters, check out Mark's website.