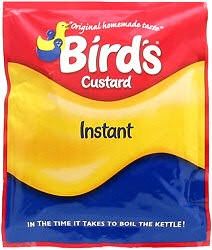 After dinner, for dessert, we enjoyed Bird's Custard over tinned peaches. We usually serve the custard with sliced, fresh bananas but the last of the bananas topped a curry last week and we are down to our winter stores now as far as fruit goes.
Exactly what possessed (or what salesman convinced) a local grocery out here in the boonies to carry Bird's Custard, imported from the U.K., I have no idea. Possibly the same Harold Hill who talked them into stocking a variety of Worthington vegetarian tinned faux meat which I alone purchased -- judging from the looks of the shelf every week -- until all the Fri-Chik, and Tuno, and Choplets, and the wonderful veggie hamburger which looked exactly like dog food, vanished, for good.
Realizing that this foray into British cuisine was likely to be just as temporary I purchased a couple dozen packets of the instant powder mix, at Mary's behest. She recalled Bird's Custard from her youth in England, whereas I had never heard of it.
I was familiar with custard pies the Three Stooges tossed around in place of witticisms, but they must have been American pies. As for authentic English custard, I had only heard of the yellow matter sort John Lennon claimed dripped from a dead dog's eyes. Not too appealing.
As it turned out the custard was delicious but not what I expected. The first time I poured boiling water into the powder and stirred I was sure I had done something wrong. (Although what part of "boil water, pour into powder, stir" I could have messed up is hard to say)
"It won't thicken," I told Mary. "It's all runny."
She peered into the bowl. "That's the way it's supposed to be."
That was my first lesson in custard.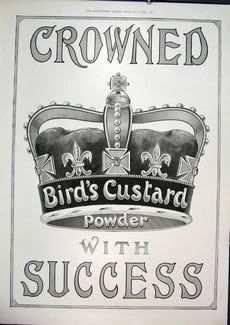 The second came when I tasted it.
"It's not very sweet," I said.
Mary tasted hers. "That's the way it's supposed to be."
Since I am not fond of overly sweet things (except of course for my wife...) it suited me fine. The taste is more interesting than, say, sugary pudding. So I have become rather addicted to the stuff. I hope, once I can get out to the grocery in the spring, they are still stocking it.