click for larger image
No, I'm not trying to increase my blog audience by bringing on the nudes. That's a painting by Pierre Bonnard, part of the picture gallery that's always showing on my desktop -- a new picture every thirty minutes.
I thought that once in a while I would feature a random picture. I'd pick a time and whatever happened to be showing -- courtesy of Wallpaper Master -- I'd try to say a few lines about it, if only why I decided to add it to my collection.
My desktop wallpaper doesn't reflect my exact tastes in art. Rather it is art I like which also looks good on a computer monitor. To my eye, striking colors and bold shapes fare better reproduced and reduced than subtle colors, textures, or intricate designs.
My mind has always been geared toward stories so I generally prefer modern figurative painting to pure abstraction. I admire natural beauty, including landscapes and women.
Okay, maybe that's just my excuse for putting nekkid women on my desktop.
But those factors help explain why I have a number of works by the French painter Pierre Bonnard. Enough so it wasn't surprising that the first picture to come up was a Bonnard.
For more than four decades he painted his wife Marthe, often in the bath, and forever young. [I wrote about them a few years ago.] I would say that such devotion was touching, except that it's commonly said that she was a deranged shrew who kept poor Pierre in thrall so perhaps "fascinating" would be a better word.
Whatever the truth, in the paintings she appears as pixie faced little woman -- no great beauty except as seen through the eyes of a doting husband. And there is something appealing to me about this comfortable, common, domesticity -- contrived as it may have been -- illuminated in the wild light of Bonnard's fauvist color schemes.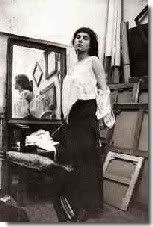 Oddly though, Marthe's face is often rendered in a cursory fashion, or mostly concealed. It might as well be the vague face of a doll. I searched the Internet to see what she really looked like. Mostly I came across nude photographs taken by her husband which concealed her face in exactly the same manner so many of his paintings do. But I did run across a little snapshot of her as a young woman. Pretty much the woman she remained in the paintings until her husband ceased to paint.