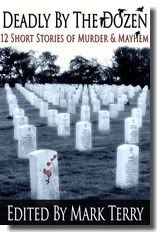 Electronic self-publishing is all the rage. While Poisoned Pen Press has made most of our mysteries available in electronic versions --yes, you can read about a sixth century Byzantine detective on your Kindle -- Mary and I have not been involved in independent e-publishing efforts, until now.
Not long ago Mark Terry asked us for a story for an electronic anthology he had planned and we were happy to oblige. Our contribution WHEREBY IGNORANT PEOPLE ARE FREQUENTLY DELUDED AND DEFRAUDED is a humorous historical about a 17th century English country barrister faced with the unwelcome task of saving the unsavory skins of several clients including one accused of witchcraft. It is one of our favorite stories, but perhaps because we wrote it to please ourselves, it never found a home so we are thrilled to see it in Mark's anthology.
I am not one of those writers who believes that the publishing industry is a vast conspiracy designed to suppress works of genius, mine in particular. And, further, I realize it can be hard to judge one's own work. However I do not accept that editors, agents and publishers are invariably right and authors invariably wrong in their evaluations. Especially now that publishing is increasingly geared to discovering bestsellers, readers like myself, whose tastes only rarely coincide with what sells most, are often left out in the cold. Poisoned Pen Press was founded largely to serve such readers.
Here is Mark's introduction to the anthology:
February 26, 2011
I am pleased and proud to announce the publication of the anthology DEADLY BY THE DOZEN which I edited and contributed to.

Twelve Short Stories of Murder and Mayhem written by an eclectic group of writers. Ranging from tough and gritty to light and comic and every landscape in between, DEADLY BY THE DOZEN promises to entertain, chill, thrill and inspire. Edited by award-winning thriller author Mark Terry. The collection includes:

A HARD LINE DRIVE TO WRONG by Jude Hardin
I DIED, I DID by Natasha Fondren
IDENTITY THEFT by Robert Weibezahl
LIVING ON THE BLOOD OF OTHERS by Betsy Dornbusch
INDIAN SUMMER by Lise McClendon
FLAT-FOOTED by Mark Terry
INTO STONE by Keith Snyder
MARIGOLD MOURNING by Merry Monteleone
LITTLE SIBERIA by Erica Orloff
A BREAK IN THE OLD ROUTINE by Simon Wood
WHEREBY IGNORANT PEOPLE ARE FREQUENTLY DELUDED AND DEFRAUDED by Mary Reed & Eric Mayer
PLUNDERED BOOTY by Travis Erwin


It is currently available for the Kindle. It IS NOW available for the B&N Nook, and soon to be on Smashwords. A paper version will become available at a later date.

Hope you enjoy!