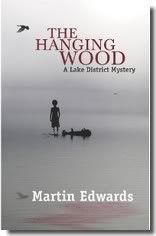 I intend to take advantage of the free advance copies offered at
NetGalley
to review an occasional title from Poisoned Pen Press. Our publisher is a bit different from the big New York City publishers in that it was not founded to make as much money as possible, but to provide an outlet for the sort of writing the conglomerates will no longer touch. Thus, the typical PPP mystery is likely to differ from the typical mystery you'll see on the bestseller lists. For example, in Martin Edwards' The Hanging Wood -- subject of my first PPP review -- you won't find any vampires. I hope that's not a spoiler.
Having already used the word "review" twice, I need to warn you that I dread writing reviews. They remind me too much of book reports. How I hated writing book reports. Books were simply to be enjoyed, not taken apart and explained. I still feel about reviews rather like an animal lover feels about vivisection.
And as for rating books, a common practice of reviewers...come now. Every reader's encounter with every book is a unique experience. Books and readers are all different. There's no point in trying to stick comparative numbers on unique experiences. When I talk about books, I'm aware that I'm only giving a personal impression. A lot of reviewers I picture donning their black cap before sitting down at the keyboard.
But enough about this non-reviewer, what about The Hanging Wood?
A teenage boy, Callum, vanishes in England's Lake District. His reclusive uncle's suicide is taken as an admission of guilt and the case is closed for twenty years, until the boy's sister Orla returns. She makes a drunken, incoherent call to the Cumbria police. "Don't you care about justice?" she asks, before coming to a horrifying end.
The task of finding justice falls to DCI Hannah Scarlett and her friend, Daniel Kind. Fittingly, Daniel is a historian because the investigation of a crime, like the study of history, requires delving into the past, particularly when the crime is a cold case.
The novel begins with a first chapter which is not only chilling but also enticingly littered with broken bits of a solution to the ancient crime. From there it builds steadily towards a startling conclusion. Well, startling except that early on we are plainly told who did it. No, it went right past me until it was pointed out in the epilogue. That's a trick I love. Kind of like when the sleight of hand artist pulls a coin out from behind your ear and you wonder how he got away with that.
The action centers on a Lake District estate which has been partly turned into a resort park. A manor hall is hemmed in by upscale caravans, a working farm, a private library and a dismal little patch of forest called the Hanging Wood. Families from the old landed gentry and the real estate developing class have been mixed, matched and employed in various capacities around the former estate. Their entwined pasts form a tangle concealing the solution to the mystery. This cunning setting in which past and present, commerce and scholarship are juxtaposed, is depicted in the advanced reading copy by a map which looks to have been hand drawn by the author and will, no doubt, be gussied up before publication. Maps are for me another favorite feature of classic mysteries.
Most of the characters' lives intersect at St. Herbert's Residential Library, where historian Daniel Kind is researching a book. A delightful invention, the library is fictional, although St Herbert, who lived alone on an island in the middle of nearby Derwentwater is real. (And no, the library collection does not consist of only the ten books the Saint had on the island. I guess that would be a Tom Sharpe book)
To solve the puzzle of Callum's disappearance Hannah and Daniel need to piece together the history of the families involved and ascertain their true characters and motivations, not an easy task since the people are complex. The violent, elemental farmer attended college, the slick real estate developer drove racing cars, the executives' wives may share the requisite social veneer but are quite different underneath. The author paints his contrasts in shades of gray rather than black and white.
Both Sarah and Daniel do have some problems to deal with in their own lives. This is the fourth book in an ongoing series. But their private sides are treated to the extent of making them believable and human without overwhelming the mystery at hand, as is too often the case.
The Hanging Wood does not feature gunplay or chase scenes. Don't be mislead, though. There is quietly depicted horror, both psychological and physical, that you will remember long after the excesses of the typical action thriller have faded.
I must report one particular bit of amusement I got out of the book, quite by chance, because Mary is from the UK. A week before reading The Hanging Wood she explained to me what Kendal mint cakes are. I had never heard of the candies. So when, towards the end of the novel, Daniel tries to regain some energy from eating a Kendal mint cake I actually knew what the heck he was talking about! On such weird and unpredictable coincidences does our enjoyment of books rest. Do you wonder why I don't like reviews?
To sum up, if you are looking for a literate, beautifully written mystery in the classic style, the sort of thing that seems hard to come by these days, treat yourself to The Hanging Wood.