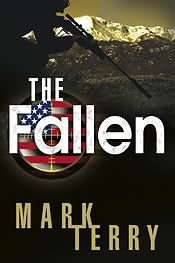 Mark Terry has a new thriller coming out later this year so, just to be awkward, I finally read his book from last year. In The Fallen, a fanatical and sophisticated terrorist group called the Fallen Angels takes twenty world leaders hostage at an economic summit being held at a Colorado resort hotel. The terrorists threaten to start killing leaders if demands aren't met by their deadline. Government operative Derek Stillwater, working undercover as a hotel maintenance man, is the only person in a position to disrupt the plot. He has to survive while picking off the terrorists one by one as the clock ticks down.
Now believe it or not this is not the sort of plot I am predisposed to enjoy. I do not read many thrillers. And, in addition, I am apprehensive about reading friends' books, but I am glad I made an exception, and I might have to start reading more thrillers because I raced through The Fallen in an afternoon.
I really don't want to have to say "page turner" or "you won't be able to put it down" but there it is. Okay, now my face is red. But what else can I say? The action starts on page one and never lets up. (Oh, there I go again...!) Mark does a masterfull job of propelling the story forward, filling in necessary information without slowing the pace. Background material is inserted so skillfully it doesn't even register as a speed bump. No info dumps here.
It's hard for me to imagine how you can get a whole novel out of a guy crawling around through hotel air vents. (Okay, I exagerrate a little....) But damned if Mark doesn't do it. My hat would be off to him, if I wore a hat.
There's more than just mindless action. Although unfolding events hardly give Derek Stillwater time to think, we still get a lot of insight into the kind of man he is. (Certain comments he makes, like when he remarks about you know there'll be both good luck and bad luck but you can count on bad luck, might have come from Mark's blog!) Derek's a complex character. On one hand he gives the impression of being a nice guy, but then again he has done a lot of things that aren't nice at all. Other characters are also portrayed as more than cardboard cut-outs to be moved around as the mayhem requires. And, yes, there's plenty of mayhem.
The story does not unfold predictably and tension ratchets up continually as things go from bad to worse to catastrophic. The villains are ruthless and scary and, in a nice nod to reality, have legitmate grievances. Derek also has an attractive sidekick, he's met during his time at the hotel. Maria Sanchez may be the coolest, deadliest food service worker in recent memory.
All in all The Fallen was a terrific read. You can read more about it at Mark's website:
The next Derek Stillwater The Valley of Shadows wil be out later this year