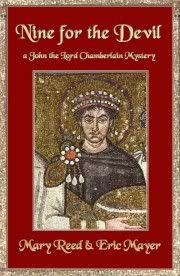 No one alerted us so I only accidentally ran across the cover for Nine for the Devil on our publisher's website. It isn't up on Amazon.com, which isn't surprising since the book won't be out until next March. However, in searching "Eric Mayer" to check whether there was a listing yet, I ran across four entries in a row -- three from Amazon's used book affiliates -- which pretty much sum up my whole writing life. Here's the list:
ELLERY QUEEN'S MYSTERY - Volume 105, number 7 - June 1995: The Pushover; The Long Walk; The Best Sort of Husband; All-American Boy; The Granite God; The Jury Box; The Obo Mystery; Hold for Arrival; The Mystery Crossword; Richie's Eyes; et al by Janet (editor) (Peter Lovesey; Perri O'Shaughnessy; Susan B. Kelly; Bob Leuci; Edward D. Hoch; Jon L. Breen; Mary Reed; Eric Mayer; Donald Olson; Beth Allison; James C. Mitchell; Charles R. McConnell; Robert Campbell; D. A. McGuire Hutchings and Ken Joudrey; (Paperback - 1995)
"The Obo Mystery" was the first story Mary and I wrote jointly and the first fiction -- albeit co-written -- that I sold. The mystery featured our modern Mongolian detective Dorj, who appeared twice more in Ellery Queen and again in a Mammoth book anthology.
Erg Quarterly #98 (April 1987) by Terry Jeeves(ed.) Ted Hughes, Eric Mayer, Ken Lake, et al. (Paperback - 1987)
During my twenties and thirties, before I sold anything, I wrote endlessly for sf fanzines. ERG was a quarterly, mimeoed zine from the UK. Terry published it for over 40 years. (Anyone who buys this zine expecting an obscure work by Ted Hughes the poet is going to be dissapointed. It's not the same guy.) I reckon my contribtion must have been a letter of comment.
Seven for a Secret (John Lord Chamberlain Mystery) by Reed, Mary, Mayer and Eric (Audio Cassette - Apr 1, 2008)
You know about this one. The seventh and eighth books are out in audio format. I can't find any information on James Adams who read Seven for a Secret. Eight for Eternity is read by Simon Prebble who, among many other things, was the announcer for the British version of "The Price is Right" and appeared for several years on "As the World Turns".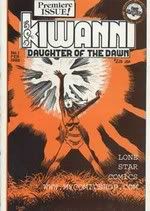 Kiwanni Daughter of the Dawn No. 1 Comic by Tim Corrigan and Eric Mayer (Comic - 1988)
I scripted this for an indie comic book publisher. It was great fun seeing the scenes and characters I described appear, as if by magic, in terrific, detailed drawings by Donnie Jupiter (Don Marquez). I moved from comics to novels, like Neil Gaiman. Well, okay, not quite like Neil Gaiman.