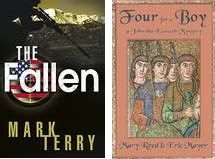 Twenty-first century special government operative Derek Stillwater and Sixth century Imperial troubleshooter John the Eunuch. What a team.
Two ebooks for 99 cents! Where are you going to find a better deal than that?
Well, okay, Mark Terry's The Fallen is available on kindle for free, while Four For a Boy by Mary and me will cost you all of the 99 cents. But still....
The Fallen is a terrific thriller which I reviewed here. Four For a Boy is a prequel to our Byzantine mystery series. It tells about John's first assignment for Emperor Justinian which led to his appointment as Lord Chamberlain. An origin story! How can you resist?
You might also note that Poisoned Pen Press has lowered the prices of our other kindle books as well. We're happy to see that our publisher is experimenting. I don't think anyone is really sure exactly what the ebook market is going to look like yet. The times they are a changing.