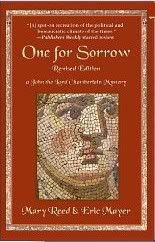 One for Sorrow, the first book in our John, the Lord Chamberlain series, is now available for
FREE on Kindle
.
Better yet, it's brand new!
When Poisoned Pen Press gave us the chance to rewrite our first effort, Mary and I were thrilled. We figured we'd learned something in the thirteen years since our first novel appeared.
Our new book has less words, more plot, new scenes and characters while remaining generally faithful to the original story. We think it moves along at a much better pace.
So if you haven't tried the series, or want to see how we would've written One for Sorrow back in 1999 if we'd known how, here's your chance.