Today I'm happy to turn the blog over to Jane Finnis whose Roman mysteries are set in a different time and place than our own. Jane's mysteries tell of life and death in first-century Roman Britain, the turbulent province of Britannia, on the very edge of the Roman Empire. They all feature innkeeper Aurelia Marcella as a reluctant sleuth.
Eric, thank you for inviting me to post on your blog, and forgive me for beginning with a cliche: travel broadens the mind. I don't know who originated this saying, nor who added the rider, "It broadens the beam also, from too much sitting around in planes and cars."
Sticking to the mind...travelling, which I love, can produce two quite different reactions in me. Sometimes I think (but am far too polite to say,) "Gosh, these foreigners are odd, the way they do this-or-that." But sometimes I realise, "Heavens, we English are odd, people do this-or-that much better here."
I've just come back from a lovely holiday in sunny Gran Canaria, and we were there for New Year. And heavens, we English are decidedly odd about the way we are only just now learning to appreciate New Year properly. The Spanish have a ball on New Year's Eve, mark midnight with wonderful fireworks, and make New Year's Day a public holiday.
Not that we English need look as far as Spain for New Year festivities. Our neighbours the Scots are world famous for their long and glorious tradition of going to town at Hogmanay and taking January 1st off to recover. Yet on our side of the border we're only belatedly catching them up. We at least have a holiday on New Year's Day now, a relatively recent development, and you can find good New Year's Eve parties and midnight fireworks. But you can also still find people who - shock horror - go to bed at their normal time and sleep the night through.
I could no more sleep through New Year than fly in the air. I love the occasion, I'm excited by the whole idea of a new start, of turning over a new leaf (or should that be opening a new file in the word processor.) I haven't a drop of Scots blood, and was born and raised in Yorkshire, but I was lucky in my childhood. I had two uncles with proper Scottish notions of Hogmanay. Uncle Whittaker loved a party and had lived and worked well north of Hadrian's Wall, so he knew how things should be done. Uncle Harry loved a party and had the distinction of being the darkest-complexioned man for miles around. A great combination! Every New Year's Eve they celebrated in style, and then in the wee small hours Uncle Harry went out "first footing", visiting the houses of all his neighbours. We, the rest of the family, tagged along, even as quite young children.
As all Scots know, to bring good luck to a household, the "first foot" over its threshold in the New Year must belong to a dark man, bearing token gifts to ensure prosperity - a piece of coal and a piece of bread were what Harry brought. Once safely inside, the luck-bringer was naturally offered a "cup of kindness" for his trouble, before he went on to the next house, and the next. His capacity for "cups of kindness" was legendary.
The Ancient Romans had the right idea about Near Year; they made a big thing of it. My mysteries are set at the very end of the first century AD, in the area round York, and as my sleuth Aurelia is an innkeeper, she would certainly organise first-rate New Year parties for her friends and customers. There was a serious religious element to the occasion as well. The god Janus was one of the most important Roman deities, and he's always pictured with two faces, one looking backwards and one forwards.
Isn't that an excellent symbol for the start of a year? Welcome the future but don't discard all of the past...and make sure the celebration is a good one!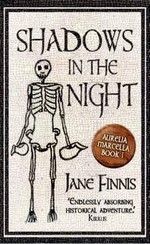 SHADOWS IN THE NIGHT was published in hardback and ebook last November by Head of Zeus for UK and the Commonwealth, and the paperback will come out this coming April. It's the first in the Aurelia Marcella series, and has already been published by Poisoned Pen Press as GET OUT OR DIE in the USA.
Website: www.janefinnis.com Blog: http://janefinnisblog.wordpress.com
Twitter: http://twitter.com/Jane_Finnis
The Aurelia Marcella Roman mysteries, published in the UK by Head of Zeus, and in the USA by Poisoned Pen Press