Genres. What are they good for? Absolutely nothing! At least when it comes to my selecting books to read.
To me a book is a book. Each one is a unique individual. I can't see how one genre is better or worse than any other. Nor can I make up my mind what sort of books I prefer. It all depends. It changes from day to day. Sometimes books which wouldn't usually be caught dead together end up colliding.
Last week, for instance, I read, back to back, Lord Dunsany's 1924 classic fantasy, The King of Elfland's Daughter and In Case of Emergency a 1957 noir novel by the French author Georges Simenon (perhaps best know for his Maigret mysteries) Dunsany's world glows with a preternatural sense of wonder like the pale, phantom mountains of Elfland at sunset. Simenon's Paris on the other hand is so bleak and seedy you can almost smell the Gauloises and the rubbish filled gutters.

Dunsany tells the story of chivalric Prince from the Field's We Know who seeks out and marries a Princess of Elfland. Simenon writes about a decidedly unchivalric, married lawyer who becomes obsessed with a young prostitute he manages to get off the hook after a botched jewelry store robbery.

What could two such dissimilar books have in common? Well, the Princess and the prostitute.

At first glance the two women have nothing in common. In the movie of In Case of Emergency the prostitute Yvette was played by Brigitte Bardot and while The King of Elfland's Daughter wasn't filmed (so far as I know) but in the 1977 record album version (a project by two Steeleye Span members) Princess Lirazel was sung by Mary Hopkin. Which seems about right. Very different women. (Although if you can see Mary Hopkin pouting about in the altogether or Bardot warbling Those Were the Days, I stand corrected.)

However, if you consider their actions the characters have a lot in common. (Yvette and Lirazel that is. Not Bardot and Hopkin.) Both are wild children, as unblinkingly selfish as two-year olds. Neither deigns to follow accepted rules of adult behavior or do anything beyond satisfying their whims. Yvette is perfectly happy to be provided for by Gobillot the lawyer and uses her ample leisure time to shop and cheat on him, even with the maid he's provided. Lirazel is not so promiscuous but she refuses to adapt to life in the Fields We Know and her self-centered insistence on having both Elfland and her mortal husband ends up forcing her father to expend all three powerful runes which should have been reserved for the defense of the Kingdom.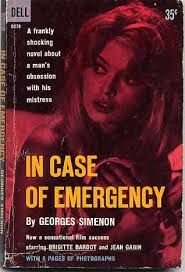 When you come down to it the two women are not very interesting (well, aside from the interest inherent in Elvish Princesses and Parisian Prostitutes). What is interesting is how their selfishness and their men's obsession with them, lays waste to everything in their path.

Or would, in Lirazel's case because, after all, her story is a fairy tale. Thus, I am not giving anything away by revealing that at the end of The King of Elfland's Daughter they all live happily ever after. Since In Case of Emergency is a fifties noir (think The Postman Always Rings Twice I doubt if it's a spoiler to tell you that they do not all live happily ever after.

Such is the difference between Elfland the real Fields We Know.
The movie was entitled Love is My Profession and the New York Times reviewer didn't like it:

"This is supposedly the picture in which Mlle. Bardot acts, under the direction of Claude Autant-Lara, who is one of the best directors in France. Her acting is a matter of opinion. If flirting in a few crucial scenes, pouting when she is supposed to be unhappy and throwing her chest out when she is supposed to be aroused may be calculated as acting, that is the word for what she does. But if getting across a complex creature, charged by many hungers and moods, is the measure of an acting performance, this one falls far short."