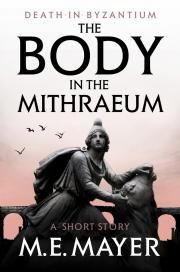 Our writing has more energy than I do right now. It's still getting out and about. For example, the second ever John the Lord Chamberlain story is now available as an ebook from Head of Zeus.
Under the title A Mithraic Mystery
it appeared in 1995 in
The Mammoth Collection of Historical Whodunnits and Historical Detectives
. Our first Byzantine mystery (
A Byzantine Mystery
!) was a very short puzzle oriented story in which the the Lord Chamberlain was little more than a cypher, and honestly, not much like our subsequent sleuth. (We think it was malicious gossip passed on by Procopios) When editor Mike Ashley asked us for a second tale about John we decided to start fleshing the character out. For the Head of Zeus reissue we did extensive rewriting and we hope it can serve as a short intro to the series under the new title:
The Body in the Mithraeum
Byzantium AD 533: In a secret underground temple, the victim was blindfolded, bound with entrails and cut open with knife. In blood, a scrawled message: 'thus perish all who hate the Lord of Light'. Who could have performed such an abomination? Why has the Empress Theodora taken such a personal interest? John's investigation will lead him into world of hidden cults and lethal palace secrets.
The Body in the Mithraeum at Head of Zeus.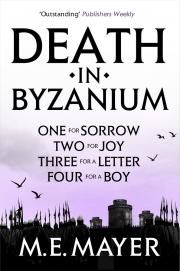 For a much longer intro you can now purchase the first four novels of the series in an e-book "boxed set":
NOTE: We have suggested they might correct the spelling on the cover image!! Consider this .jpg a collector's item.
DEATH IN BYZANTIUM: At the heart of what is left of the Roman Empire, lies a city simmering with intrigue & treachery. Amid this maelstrom stands John, ex-slave, now the right hand of Emperor Justinian. It is John's skills as an investigator that Justinian prizes the most. But the emperor is not a sentimental man. Nor is he a patient one. John knows his position is precarious. One misstep and his enemies may have him. And if they don't, the emperor himself almost certainly will.

ONE FOR SORROW: When the body of a high-ranking treasury official is found in a filthy alley, John's investigation stirs the ghosts of his past and threatens his life.

TWO FOR JOY: John must discover why three of Constantinople's holy stylites have burned to death atop their pillars.

THREE FOR A LETTER: The murder of a child threatens Justinian's dreams of resurrecting the glory of Roman Empire. John will need all his wits to keep his job... and his head.

FOUR FOR A BOY: In this series prequel, John the slave takes his first steps along the dangerous path that will lead him to become Justinian's Lord Chamberlain.
Lastly, Poisoned Pen Press will be publishing Ten for Dying in March, but more about that later.