I know that it is politically incorrect to single out one party or the other, so I'm sharing this with you with no comment.
It's hard to read, so allow me to explain: this flier advising Republicans to vote on Nov. 4 and Democrats on Nov. 5 is being circulated in Hampton Roads, Virginia, according to state elections officials.
In fact, Election Day, for all voters, regardless of party affiliation, remains Nov. 4th, set by federal law.
The somewhat official-looking flier - it features the state board logo and the state seal - is dated Oct. 24 and indicates that "an emergency session of the General Assembly has adopted the follwing (
sic
) emergency regulations to ease the load on local electorial (
sic
) precincts and ensure a fair electorial (
sic
again) process."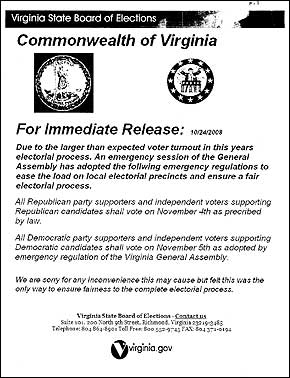 The errors are a clue to its provenance.
And I ask you: Which party profits?
Cui bono?