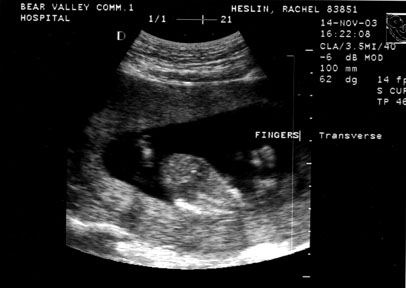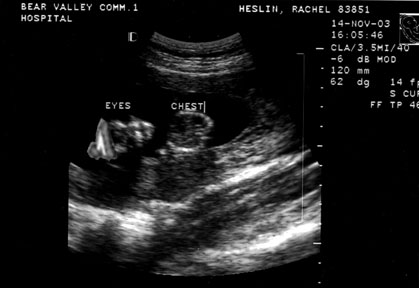 (Disclaimer: the Where's Waldo? hat was Shawn's idea.)
So, yeah, apparently there's actually someone living inside me now. A gymnast-type someone, if the flips we witnessed are any indication.
(Wee! Wee! flip flip arms/legs/whatever/curl up the other way, suck thumb.)
Here's the interesting part: as far as Shawn and I are aware, date of conception was September 2nd or 3rd. That would put me at 10 1/2 weeks since conception or, in Weird Pregnancy Calender Terms, 12 1/2 weeks pregnant. The doctor seems to think I'm 13ish weeks pregnant. The radiologist says I'm 14ish weeks pregnant with an expected due date of May 14, not May 26.
Hmmm.
Then I talked to Dad, who asked if I'd been using the
Alpha-Stim
. Since I can't take drugs, that little machine has been my life-saver when dealing with headaches, depression, stress, insomnia, etc. etc. So yes, I've been using it pretty regularly.
Turns out that there's evidence that use of the Alpha-Stim has been shown to aid the body's healing capabilities, where wounds heal faster and more cleanly than without. Dad also mentioned some other stuff I don't remember, but it boils down to there being a chance that use of the Alpha-Stim might actually aid fetal development.
Trippy.
So, I figure, if I continue to plug myself in on a regular basis, I should give birth sometime in, oh, say, February. I'll keep you posted.
---
QotD
Hey! Stop poking me!
-- Incipient Heslin