Today has been A Very Good Day, which is something I feel I haven't been able to say for a long, long time. Off to a light-hearted start when I read the messages on here - I hate being so openly needy about this, but as you know this is an official hard time and needs must. But thank you - it's so good to know you're there.
I now have some melotonin (from the GP not the street), as a new approach to getting more sleep, so I'm taking a sensible approach and writing earlier. I seriously don't understand how melotonin works, especially taking it early, but it's worth a shot to avoid the endless dark hours of dreadful ruminating, the going over and over what has, will and might happen. Or getting back into trouble with the valium. No. (That was me 'just saying no'.)
I then spent lots of money I don't have, on:
Tibetan prayer flags for the garden

Two wide silk scarves, tie-dyed in zingy, vibrant shades of pink, orange and turquoise, one for ED to decorate her room, and fuck it, I'm having one for me.

Some bio-oil on half-price, having just seen the wrinklage my face has gained over the last month or two

A deposit on two tickets to see Reginald D Hunter

A deposit on a beautiful, life-sized ceramic dachshund, which may be a birthday present for Son, or I may just keep.

A bacon sarnie and coffee in a caff
Ach, it seemed like loads, but it's not so much really. Though I have also invited the whole family to come down for a matinee of this year's Christmas show, a touring production of Priscilla, Queen of the Desert, and fuck knows how much that will cost and how much I'll get back. SIL has agreed to drive ED down - I think she'll like it, even if she can't see much beyond the colour and movement - it's full of razzamatazz and big cheesy songs and a kid with unconventional parents - all good stuff.
Also went to the library to ask about neuro-rehab and have a book 'The Better Brain' (which I haven't even looked at yet in case it's either too academic or not relevant), and a recommendation to contact The Stroke Society, as they've the most experience in this. Their website hasn't got me anywhere useful at all, but I will call them tomorrow. I think this is the most significant factor in my feeling so much better today - a bit of purpose, rather than the impossibly nebulous attempt to be kind to myself.
Many thanks to
Bex
, for her technical advice - haven't mastered it all yet, but have made some inroads. Look - here's a pic of the view from the smoking veranda at ED's care home: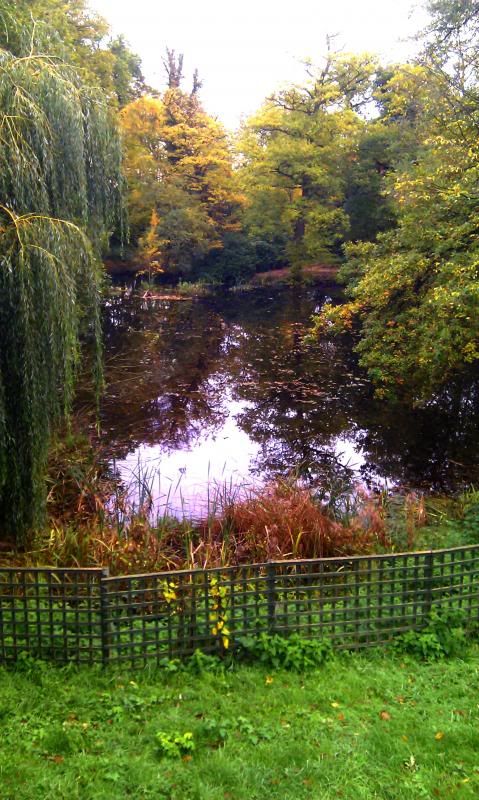 Now I'm off to rant at the telly (Thursday is politics on the BBC) then get an early night.
Today I am grateful for: Friends both far and near, real life and virtual, all equally precious; having a warm home; and an overdraft facility; a bit of energy and peace - I've walked 7,179 steps so far today, first time I've reached 6k this week; a knee length, thick cardie I bought in a charity shop a couple of weeks ago and have worn every day since - yay for having a warm arse.
Sweet dreams xxx