An old friend died this morning. Old as in I've known her forty years; she was only just sixty. And not exactly a friend as we never really made any effort to see each other, but our lives have always intersected. We bought Bob (cat) from her, during her cat-breeding phase. Sigh. It's always sad when someone dies - suddenly that's their story over, the shape of the whole life revealed at the last. Multiple cancers, only discovered a couple of months ago when they were too advanced. Ach. RIP.
I phoned ED's home, but discovered I have no energy for any of that right now, sad and potentially shameful, but true. I spoke to ED herself and she wasn't that great, hadn't got my card, or had forgotten it already, but was aware of being thirty five and not having much in the way of a future to look forward to. My store of homely platitudes is empty.
I just kept going through the day, doing what I'd decided to do, which was mainly go over to Sis's and use Ma's sewing machine to make my dress. It was cool hanging out with the baby - little ones are very accepting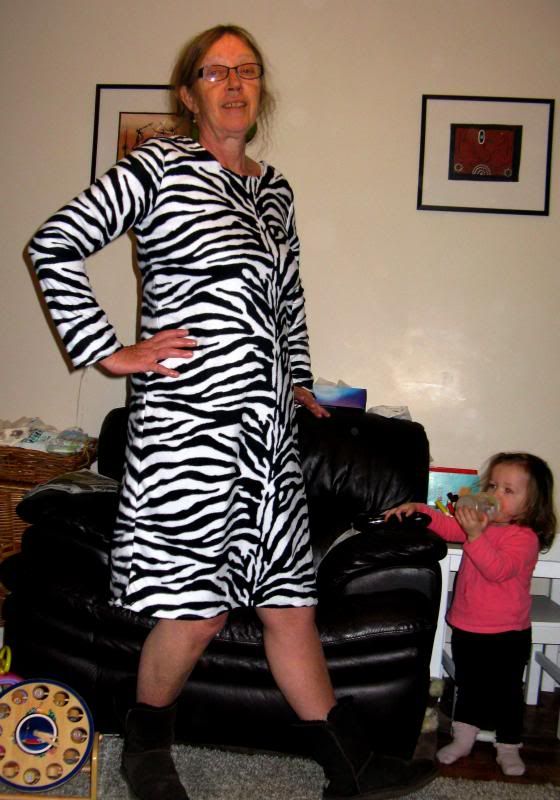 The sewing took about an hour, including multiple rethreading and that kind of fuckery and if it was GCSE textiles it wouldn't get a C - far too slapdash, but I really don't care. I'm thinking I'll get some leopard skin fleece tomorrow and make another one as I haven't taken this one off yet and can imagine that that's me done for clothes till it warms up. I've been struggling, having lost two stone (28lb) since last winter, due to taking up the walking, I think. (6233 steps today). I've lost my taste for endless comfort eating and maybe shifting my default 'can't be arsed' dinner from meat pie (pastry), jacket potato and broccoli to a Pret salad box and j. pot makes more difference than I thought - there's shit loads of fat in pastry. I didn't set out to lose weight, believing that a bit of padding is no bad thing as you almost think about beginning the gradual drift towards approaching your old age is no bad thing. I'm only just out of the overweight category so I'm not in danger of wasting away or turning into a bag of bones just yet, but all my winter clothes are now miles too big - trousers that fall over my hips and have to be bunched up with a belt - it's not exactly comfortable.
Being over at Sis's, I took Nephew's less than enthusiastic dog: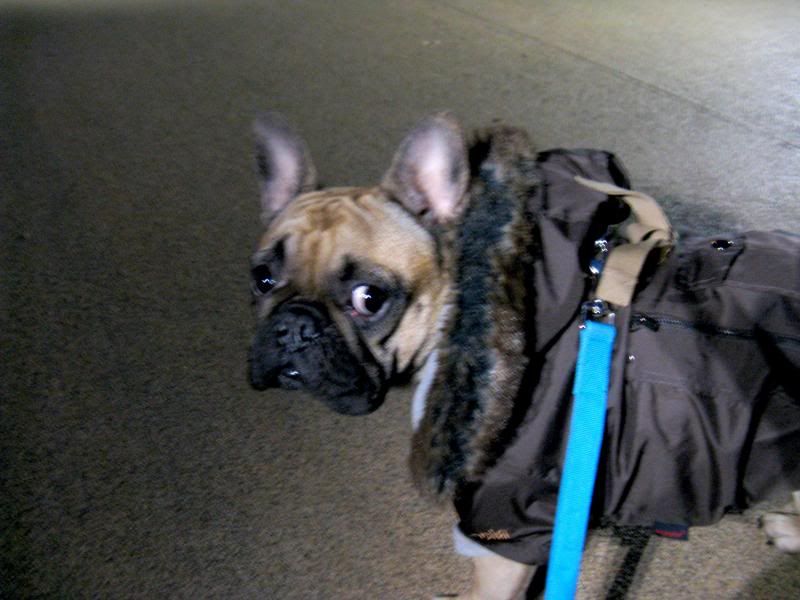 out, across the river as the sun went down: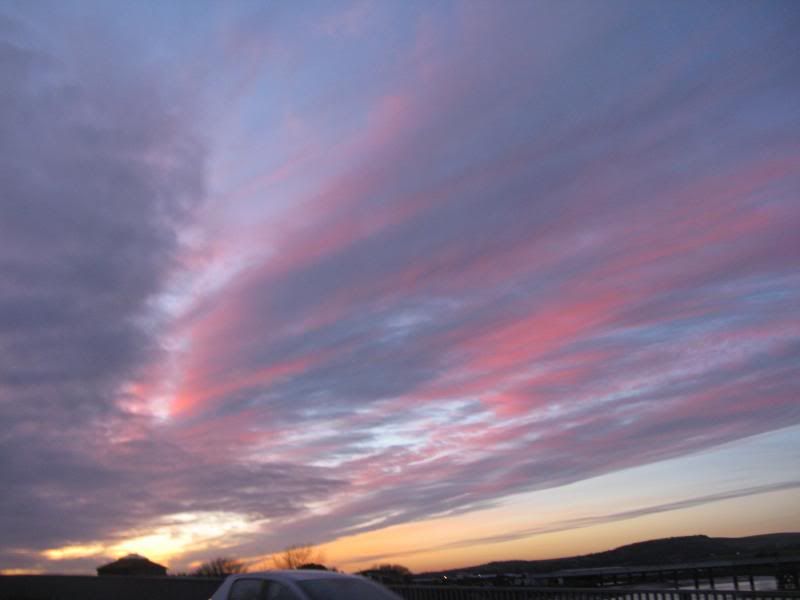 along by the houseboats, where I used to live (not in a houseboat, not for over thirty years and then only for one summer):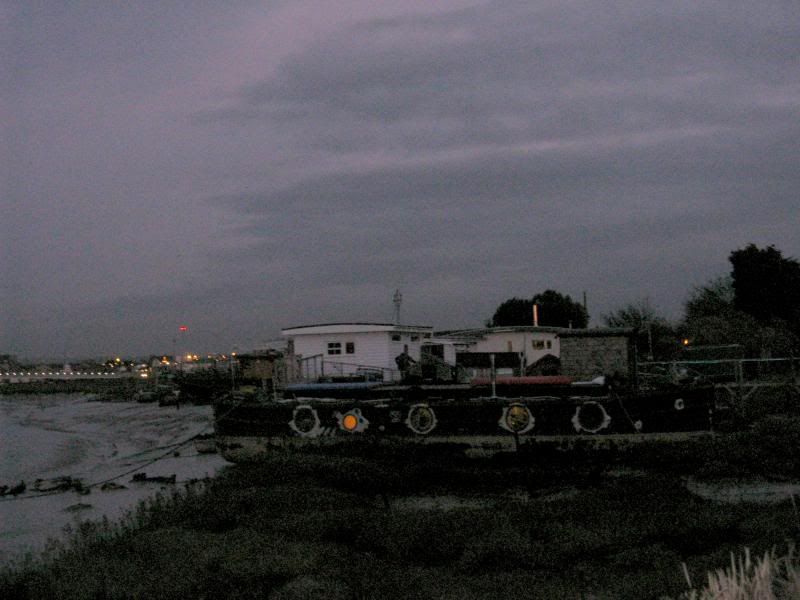 and back over the new footbridge: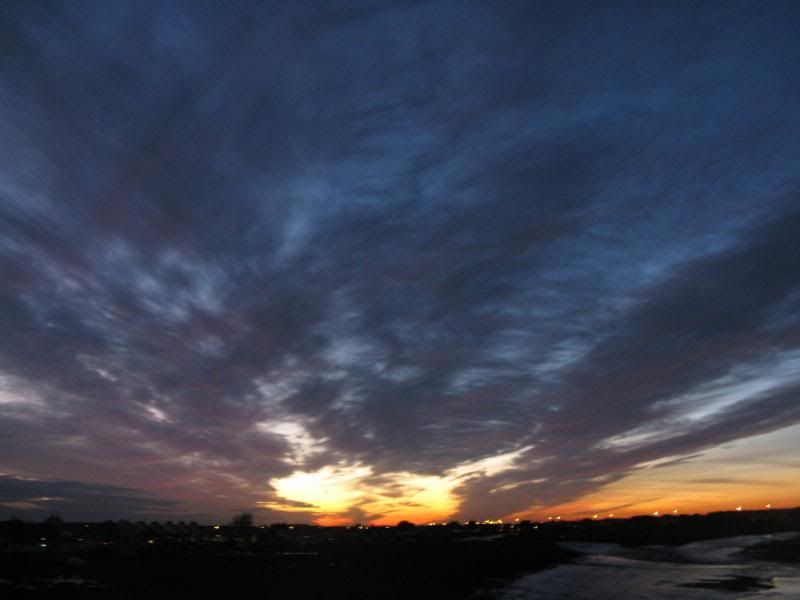 It was kind of melancholy, me and the resigned dog in the bitter cold.
I came home thinking I'd cook dinner, but when I got in I realised I wouldn't so went down the road to this place that calls itself a bistro that has a nice little sheltered place outside where a person can have a fag with her coffee after eating indoors. When I took my coat off the waitress asked, in her heavy East European accent, "You going out somewhere good? Very smart dress," which was nice. There was no one else in there and I've been in there quite a few times recently so we chatted, in a desultory way, which was also nice.
Grateful for: not giving a fuck about all the things I don't give a fuck about; the will to plod on through; Sis being just along the road a few miles; living so near so many places to eat; being taught needlework at school, all those years ago
Sweet dreams xxx