Feeling quite human this evening, after a long talk with dear Son this morning. I'd thought he'd been avoiding the subject of his sister and although wanting to respect his need to deal with it in his own way, even if that is denial or not having it in him right now to deal with my sorrow, I'd also found it hard having it undiscussed. He's just on his sixth anniversary clean and dry, and there's no way I'm putting shit on him uninvited as his continuing health is beyond precious. But he's stronger than I thought and this morning he encouraged me to speak and to feel how I feel without judging myself. Which again will be easier after the fucking festive season.
Son was interviewed for the staff magazine of the university where he's working. He loved it - the title is 'Spotlight on Son' - or Real Name of whichever employee has been randomly selected this month, but who cares, this month it's Spotlight On Son. He showed it to me - he's such a good kid, honestly, despite being pretty full on, that I burst with pride all over the place. I especially liked to read: "I grew up with a very rich cultural influence from my mum," because I forget that kind of stuff - when I told him that, he reminded me of a time we were in the car when he was fifteen and he asked me why 'Lord of the Flies' (novel by William Golding) was such a big deal. Apparently I summed up the key characters, plot and themes in such a way that we were able to discuss it in depth all the way from here to there. Well, who knew?
So I managed to raise myself up a bit and take nephew's dog for a walk up the riverbank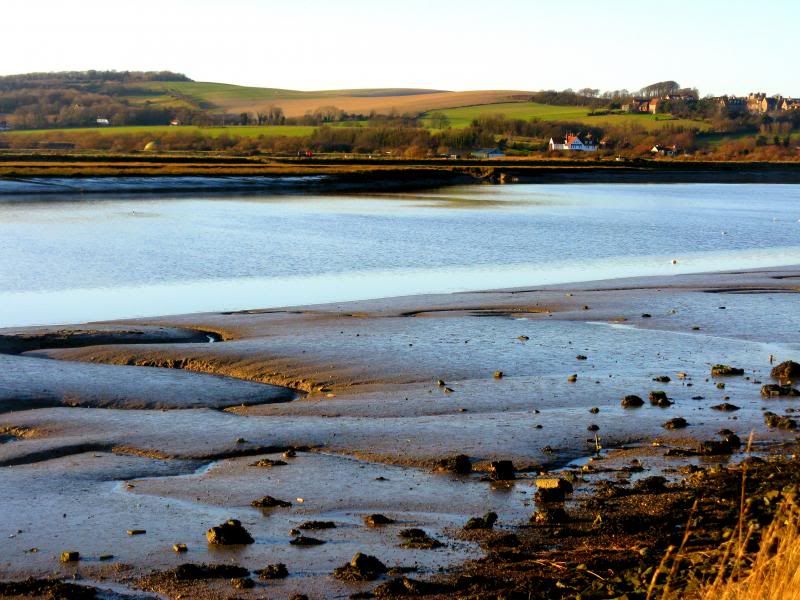 and across the old toll bridge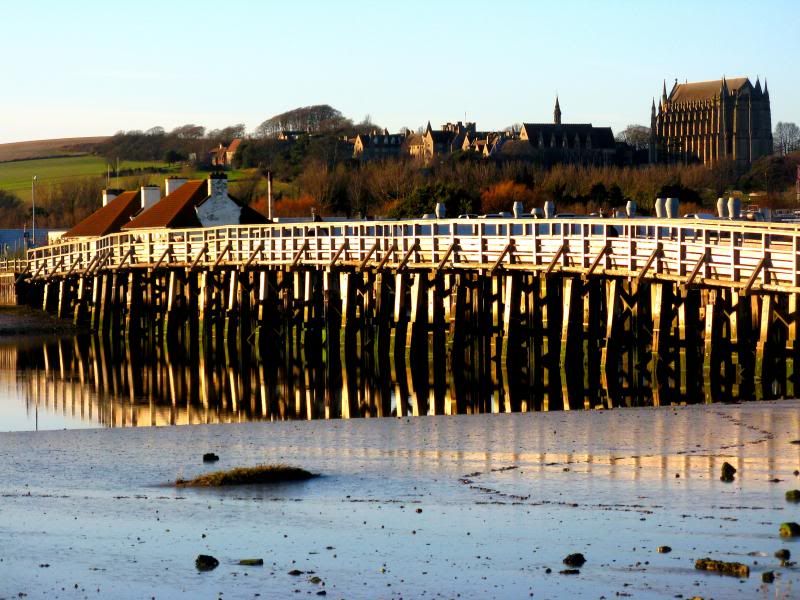 in the crisp winter sun.
After that I'd had enough of people (I've been in the midst of my extended family for what seems like a millenium, trying not to be the spectre at the feast), and came home and watched a lot of telly.
First yesterday's Downton Abbey, which is a load of flim-flam and just the sort of distracting old tosh a person can enjoy - well apart from the shocking event in season three, which burst in with the same unexpected brutality as it does in real life, but we had none of that in the Christmas episode. It was followed by the first part of an adaptation of Death Comes to Pemberley, a novel by PD James (big shot, old school, 'literary' crime novelist) which takes the characters from Pride and Prejudice about five years later. This was aiming to be proper telly - which Downton isn't even pretending to do - but somehow I find it much more problematic. I really resent seeing those characters acting under the control of someone else, someone not Jane Austen, someone from
now
. A massive part of the pleasure of those novels is the way Austen's voice comes leaping off the page, from two hundred years ago, speaking straight into our modern minds, taking us back with her into her time and place, and we go, happily, joyfully, because we recognise so much of ourselves despite the unimaginable differences in circumstances.
I don't know if I'll watch the rest - I remember one of the tutors at Uni saying that discussing what the characters did after the end of a novel was like asking what was outside the frame of a painting - they're created, there is nothing else - and I like that, though I'm not arguing that everything must always be 100% original - Shakespeare used stories that had been told before, so that's not a position I can defend, I'm just pissed off that it's PD James, probably. I used to read her books until one of the characters was described (in the authorial voice, not by another character), as being 'the kind of person who drank instant coffee'. At the time every single person I knew drank instant coffee, so I thought she could fuck off right then and there, and she's not winning me back by having Darcy take up a position on the French revolution. If she'd just taken the characters, the history and the relationships but given them all different names I'd probably love it, but then it would be clear that this was written now, in the 21st century, by someone who has read a lot about the early 19th century but who lived through the second world war, has a website and is probably aware of the Miley Cyrus furore and whose sensibilities are her own, no matter how clever she is and I feel resentful about that.
But it's quarter to three and I must get to bed and read a bit more of the JK Rowling crime novel (Cuckoo's Calling by Robert Galbraith, but it's her), very enjoyable.
Grateful for: a better day; Son; YD, who calls and chats from her visit to the BF's parents; having a dog to walk; a sunny day; SB coming tomorrow
xxx