It's late and I'm tired and I don't know why I've sat here, titting about on the internet for so long, writing the beginnings of diatribes on comments after several different articles, but suddenly getting cross with myself for getting involved and deleting it, then doing the same thing again. One on the question of how useful are trigger-warnings and do we really want them spreading across everything YD and I survived the rape on Downton, tho it did spoil any hope of the cosy evening we'd had planned in front of undemanding telly); then one about the realities of (British) teachers' real work load (I won't get started again on that), and another about fucking people sounding off about how vile it is of other newspapers/tv/whatever to intrude on Jagger's grief
and then using a photo of him, supposedly at the moment he heard his partner had died, as an illustration
. I don't read the sort of trash that does that, but I still kept seeing it as people shared these articles complaining about it. And I didn't want to, I chose not to, but sorry Mick, this is where we are now. How many did actively choose to see that photo and are they sort our media should be catering too?
I don't know why I don't want to go to yoga, but I don't. Which means I'm holding onto feeling worse than I need to - and what's that all about?
The photo prompt was 'five years ago' and I discovered that back then was just before I went to America and I was mainly taking photos of the various cats that found their way into our house: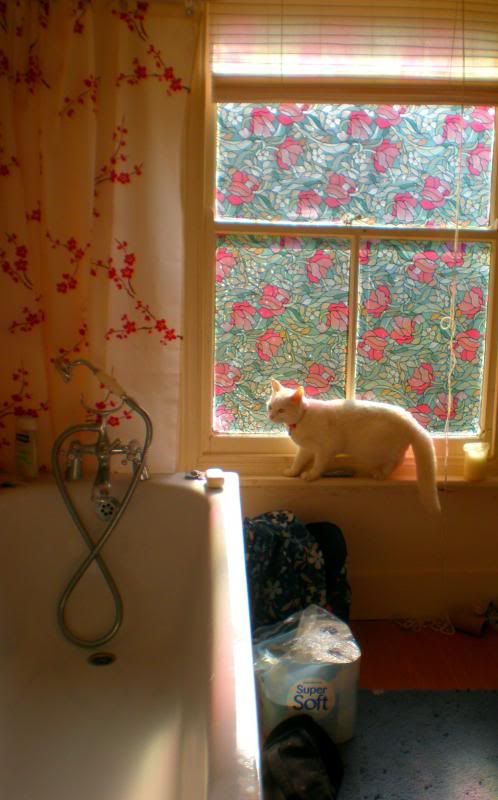 I got three on that day, this one, a ginger tom and a black and white moggy - how did they all get in? In March - surely we didn't have windows open for long enough for three different cats to get in in March? We were pretty spaced out back then though, me and YD in that little house. The other pics show (even more clearly) that it was a right tip.
Today I am grateful for: leftover curry for dinner; YD writing a clear list of my income and outgoings, with dates paid/due, and sticking it in a place where I can see it; having blood test results - an infection, probably my rotten teeth, another test done today to be sure it was the teeth and is now cleared; YD mending my bed; furry slippers
Night night