Over the weekend I went orienteering. For those who aren't familiar with the sport -- which is to say almost everybody -- it, involves navigating through the woods using a map and compass. (See the
U.S. Orienteering Federation site
for more information) Competitors try to complete the course as quickly as possible. Recreation minded orienteers like me are happy just to find all the control locations and enjoy the scenery.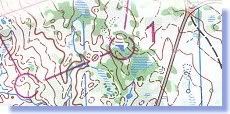 Though I had not orienteered in three years, I left the start at the road junction and plunged into the woods without hesitation. Only after the road vanished amidst the leafless trees and thick stands of mountain laurel did I realize that I didn't even remember how to hold my map and compass correctly so as to be able to tell what direction I was facing.
I fumbled around for a while, trying to recall what to do, all the time proceeding in what I guessed was more or less the right direction. Before long I was more or less in the vicinity of the pond I needed to find. Lost, in other words.
At least the weather was warm for March. The sun sparkled off the brown leaves covering the forest floor. Indeed, if I possessed any sense of direction I could have returned to the road simply by observing the sun's position, or taking note of what side of the tree trunks had the most moss. Unfortunately I always have to think a second before identifying my own right or left hand. To be fair, neither has grown any helpful moss.
Aha! That was it. My compass and map should both have been in my right hand. And I needed to align the needle with the north lines on the map.
Suddenly I began to appreciate the beauty of the open forest. Endless shades of brown interspersed with dark green pines and laurel and gray rock. The scenery always looks more attractive when you know where you are.

The glaciers that covered the Poconos left in their wake a gouged terrain, a jumble of hills, ridges and potholes littered with rock. Depressions and valleys are likely to be filled with small boulders. Here and there long streams of boulders run through the forest like ruined highways.
I managed to find my pond, still covered with a transparent film of ice. The sight of the orange and white control marker, confirming the location, was as thrilling as ever.
As I continued the course I gradually remembered what I was supposed to be doing. Although I spent a lot of time thrashing around in the undergrowth and going in the wrong direction, I finished, even if I did finish last, and on a mere intermediate course at that.
The beauty of doing something that you have no knack for whatsoever is that just managing to do it at all can be satisfying.