Much to my surprise, Julia Buckley at
Mysterious Musings
has just given me a
Sisterhood Blog Award
. This is an award from bloggers, to bloggers, in recognition of a blog spot which shows great attitude and/or gratitude.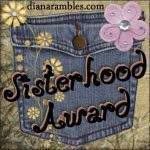 According to the rules, I should pass the award on to up to ten other blogs. Unfortunately, were I to do so, I would have to leave out a few folks to whom I just this week awarded a Premio Dardos and that would be almost like taking back the first award.
Well, it would seem like it to me. So although it isn't strictly in the spirit of the thing, and probably shows both a lack of gratitude and a bad attitude, I'm going to just hog the recognition.
Funny how complicated this awards business gets. Every year, when it comes time for Edgars and Hugos and such, there are those who seem more interested in who was "slighted" than in who won.
Yet we all love getting awards. Writers, in particular, because don't perform on stage where they can hear the audience's applause, are always eager for a sign that someone enjoys their efforts.
Thanks, Julia, the award is very much appreciated!