We've just seen the first
wood cockroaches
of spring! Mary spotted the initial roach on the wall of the office. As much as I appreciate any sign of the changing seasons I'd have preferred a robin. Not in the office, of course.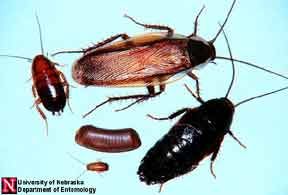 When you're practically out in the woods you have to expect a certain amount of wildlife. We've spotted everything from a bobcat to a bear. Last week a huge red headed woodpecker was searching a nearby tree for breakfast. Maybe he scared the woods roaches into the house. Except for the occasional mouse, insects are about the only wildlife that comes inside. Just as well, I'd hate to roll out of bed and put my bare foot down on a wild turkey.
The woods roaches are harmless and stingless, and can't live inside and multiply like your city roaches. We've been invaded by spiders as big as your palm and enormous, flying, buzzing Western Conifer Seed Bugs. Wood cockroaches are fairly low on the gibbering horror scale.
But still they aren't anything you want to be in the shower with. Luckily for me it was Mary who noticed the second roach too, on the inside of the shower curtain. Good thing she took her shower first. I'm so near sighted I can see from one side of he stall to the other. I might have blundered into the bug. Starting today I shower with my eyeglasses on.