[Mark Terry's on a blog tour to promote his new Derek Stillwater thriller and he'll be stopping by here on Tuesday. In the meantime, here's my review of The Valley of Shadows.]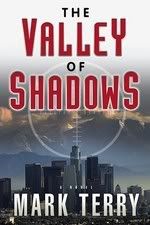 In the first scene of Mark Terry's new thriller, The Valley of Shadows, United States operatives fight their way into an apartment in Islamabad, Pakistan and kill the al-Qaeda terrorists holed up there. A seized computer yields startling information and soon Homeland Security troubleshooter Derek Stillwater finds himself part of a special team assembled to thwart a series of terrorist attacks on United States soil planned to coincide with the upcoming elections. Derek's most urgent task is to discover the real identity and whereabouts of the terrorist mastermind who goes by the name of Kalakar.
It's impossible not to note how eerily similar Mark's opening is to the raid that actually killed Osama Bin Laden. Many other elements of his story ring true as well -- the possible treachery of the Pakistan government, the search for a the identity behind a terrosit's nickname, even a training session involving a possible threat to US rail transisit, one plot Bin Laden had apparently considered we now know. It makes one think that Mark has probably got the rest of it right as well. The complicated and fractious relationships between the various government agencies, the tactics and economics of terrorism, the technology used by both sides.
Despiite the novel's fast pace, I learned a lot. And believe me, The Valley of Shadows is non-stop action. Mark skillfully shifts between characters in Pakistan, Washington, D.C., Los Angelas, and places in between. In one chapter we're with a presidential candidate in his private jet, in another we're dumpster diving with a derelict. The story which moved relentlessly forward. Just as you think things can't get worse, they do. A fascinating, and I suspect realistic feature, is that we see the plot and the operation to stop the plot, both going badly wrong.
Derek Stillwater isn't an easy guy to pin down. At times he seems thoughtful, a reluctant warrior, but he's also prone to violence, sometimes gratuitous. It's an open question whether he simply doesn't have a good grip on himself, or is not as nice a guy as he otherwise seems. He is also not a team player, a trait that can turn out to be counterproductive. He has a history of getting results but, arguably, with more collateral damage than might have been necessary. Which is to say, he is an interesting character because the action-hero traits he possesses don't always serve him perfectly.
I hope I'm not giving anything away here, but as a fan of John D. MacDonald I can't resist noting that both the Stillwater thrillers I have read end with Derek lounging on the houseboat he calls home, along with a woman in need of R&R. Maybe this explains why, despite his reluctance, he is willing to keep getting involved in impossiblly dangerous situations. I guess I would be too if I got to be Travis McGee in the last chapter.
Having said that, I have to reveal, I did get a little close to the action in this book, appearing briefly in the first chapter. Yes, Mark "Tuckerized" me! Alas, the book's "Eric Mayer" didn't do anything heroic enough to merit any women, which is a good thing since Mary might have been pissed.
Actually, "Mary might have been pissed" is probably a bad way to end a review, and not very useful for a blurb. Let's say, rather, that I found The Valley of Shadows brilliant and gripping.