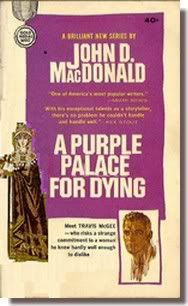 Mark Terry asked the question: "What popular novels do you think could be set in 6th Century Byzantium?" The examples he gave might well have been more commercially viable -- had Mary and I thought of them -- than our own Lord Chamberlain to Justinian idea.
Constantinople is surrounded by water on three sides, just like Florida. Travis McGee could moor The Busted Flush on the Golden Horn, or the Sea of Marmara and sail to wherever his salvage operations took him. His sidekick Meyer might need to be left out. I don't think they had economists in those days. Just tax collectors. Travis might be asked by a Bishop to retrieve a Saint's mummified nose, because the Bishop didn't dare let it be known that the relic had been lost in the first place. Although I don't know what Travis' customary half of what he retrieves cut would be. What was the going rate on Saint's noses?
The huge Hippodrome race track was right next to the Great palace so Dick Francis would have had plenty of material. Members of the racing factions were not averse to skullduggery and partisan violence when it came to winning. Imagine charioteer Sid Halley investigating a curse tablet found buried under the far turn of the track. I'm sure Dick Francis would have been certain to have Sid hauled off to Justinian's dungeons at some point to be roughed. A desperate gallop through the crowded, colonnaded streets of the city would have made a fitting climax. How about a shortcut through the Baths of Zeuxippos?
Agatha Christie I fear would not be at home. Can you see Miss Marple in Constantinople? The Byzantine capital was not exactly a small, English village. And as for Poiret, well, Belgium hadn't even been invented.