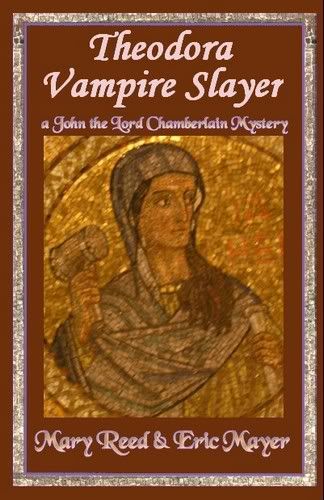 THEODORA, VAMPIRE SLAYER
First in the Byzantine Bloodsuckers Series
Prologue
Patriarch Menas glowered down at the corpse sprawled on the sunlit tiles far beneath the monstrous dome of the Church of the Holy Wisdom. The dead man's face was colorless as a classical Greek sculpture, but two tiny scarlet dots glistened beside the rigid cords of his neck. Just like the body in the font.
The Patriarch looked up. His fiery glare could have pierced the dome and knocked an angel out of the heavens. He muttered to himself furiously. "This plague of godless bloodsuckers is really starting to piss me off."
Behind the walls of the Great Palace, little more than a stone's throw distant -- as measured by rioting mobs -- deep in the most private parts of Empress Theodora's quarters, the imperial couple still lolled in bed. Theodora belched daintly and pushed away a golden platter piled with boiled quail's eggs and honey cakes.
"I'm not feeling hungry this morning," she said to a hovering attendant. "Give it to the Imperial dwarves. And then give one of the dwarves to my pet bear."
When the servant had left, Justinian threw off his silk covers and sat up.
"Theodora gave him a disapproving look. "You're meeting the Persian ambassador this morning, dear. You'd better get your game face on."
At the moment the demon emperor was not wearing any face at all. His head was a featureless blob of flesh, squirming like a bag full of maggots as he attempted to assume some semblance of humanity in an era bereft of coffee.
"After last night, I'm lucky if I have energy to put on any face," he grumbled internally.
"I didn't hear you complaining."
Justinian plucked a jewel encrusted toothpick off the bedside table. "I can't imagine how you had had any appetite after that banquet. I love stuffed dormice as much as the next...uh...man, but their toe bones get caught between my teeth."
He let out a muffled yelp as he stabbed the rippling flesh where his mouth should have been. Painfully reminded, he managed to form an irregular, snaggle toothed orifice that might have passed for a mouth, at least if you were an emperor. At the Imperial Court in 6th century Constantinople, the phrase, "Pardon me, Excellency, but why do you have a rotted carp on your head this morning" was a phrase a courtier spoke only once.
Theodora rubbed her temples. "What a hangover. My head feels like Jael pounded a stake through it," she remarked, demonstrating her renowned fondness for the Bible, or at least for its more depraved parts.
"Well," Justinian spoke around his questing toothpick, "I'm not surprised, the way you were drinking. I've warned you not to mix Orthodox deacons with Monophysite monks."
(Hey, blame Christos. He suggested it in his comment to the last posting!)