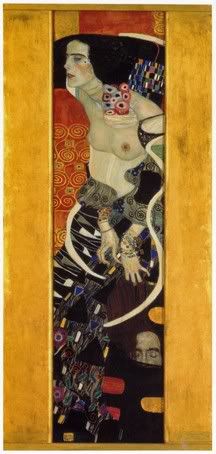 When I got up this morning
Google
greeted me with a truly clever tribute to the 150th anniversary of Gustav Klimt's birth. Klimt has always been one of my favorite artists. I love his elaborate, icon-like works, which are sometimes dismissed as overly decorative. But I also like his impressionistic landscapes and brilliantly executed drawings.
But you might be wondering about the painting accompanying this entry. Well, Judith and I had a long history. I met her during the late seventies when I was living in Brooklyn, going to law school. When you're in school, furnishing an apartment can be a challenge. You make do with an orange crate here and a couple of cinder blocks and boards there. If you find a wobbly table put out to the curb then suddenly you need to rearrange the whole decor.
One afternoon I was walking back from the subway station on trash pickup day -- "shopping day" for students -- and there she was, leaning up against some beat up garbage cans, smiling in my direction. I guess I should have noticed the severed head she was holding but considering the way she was dressed...
She, I must explain, was a four foot high reproduction of Klimt's Judith II (Judith with the head of Holofernes but often taken for Salome with the head of John the Baptist...I'm tempted to say those Biblical babes were buggers for beheadings but I shall resist) nicely mounted on a heavy backing. I put my arm around her and she didn't resist, so we went up to my apartment.
There's nothing more depressing than bare walls. I put Judith in a prominent spot. I can tell you, a half naked,leering woman holding a dead man's head by its long hair really changed the whole atmosphere of the place.
Now I've got to be honest and admit that I was married at the time. My first marriage. And if I were writing a short story I guess I could make something of the fact that the poster that turned up was Judith and not, say, the Lovers, if you get my drift. Was Judith trying to tell me something? But I've got to get this entry up before the Google logo changes so I don't have time to get all literary.
Suffice it to say that Judith (somehow, no matter how long I knew her, "Judy" just didn't seem to fit) moved around with us for years, although finally she ended up on the wall of the basement office. That's where she was when Mary and I were married, if I recall rightly. One of my few possessions the Ex didn't take with her. At least she left me my head.
When we moved from that place Judith got left behind with the rest of the past. I wonder if someone else invited her into his tent?