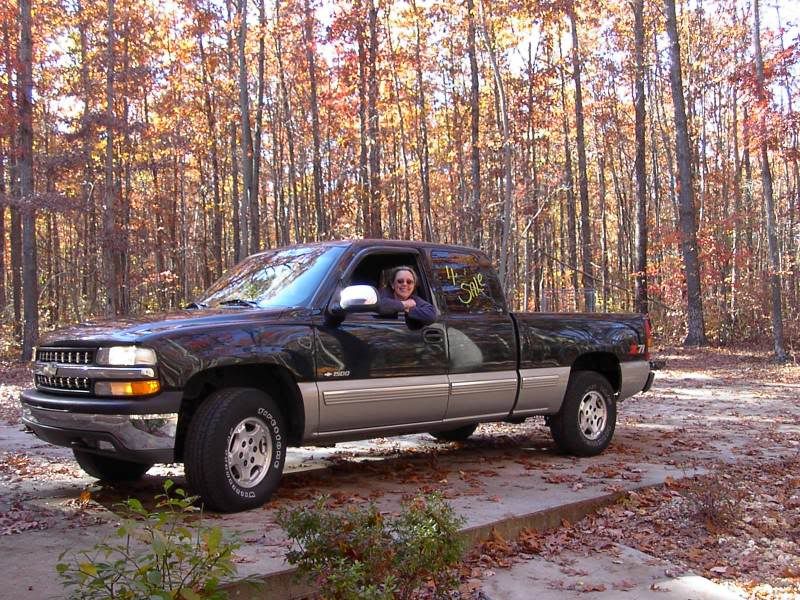 So how do ya like it - my new security system - me sitting in it? Instead of a big old growling black dog, I got me a big old growling black truck. Let me explain my logic here.
Last week my Aunt Jean Carol and Uncle Bill drove up the mountain to visit. This is how a portion of that visit went:
Irene: Let me start her up so you can hear her sing.
Truck: Rumble, rumble, rumble (through its duel exhaust).
Aunt Jean Carol: (her hands to her face like Macaulay Culkin in the movie Home Alone) Daddy Bill, does it have muffler issues?
Irene: (answering for Uncle Bill) Oh gosh no. It's been modified to sound that way. People go to a lot of trouble to get this sound.
Aunt Jean Carol: (throwing a side glance toward Uncle Bill then giving us a nice sounding laugh.)
Uncle Bill: Yup, Irene Carol, (my aunt and uncle are the only people in the world to call me Irene Carol - it's the Southern double-name thingy) All you need now is a gun rack.
Irene: Ignoring the suggestion.
Uncle Bill: Y'all also have to get a Confederate flag to put in the back window.
Irene: Ignoring second suggestion.
Uncle Bill: Are you going to park it in the garage?
Irene: Nope, this here truck is going to multi-task as my new security system. Any potential intruders might have second thoughts when they see it and assume a burly mountain man lives here.
Aunt Jean Carol: Irene Carol, you are so clever. (One of the many reasons I love my Aunt Jean Carol is she thinks I can do no wrong.)
Truck: Rumble, rumble, rumble
I bought the truck from some folks a ways up the road who own the local Furniture Emporium. I swear to you, that's what they call it. They're going out of business - up to their eyeballs in debt, so I've heard. I paid a fair price for the truck, and on a whim, I pointed to a chair, which retailed for $1,400, and asked that it be 'thrown' in with the purchase. The owners looked at me a bit strange, but agreed. I guess I gained some bartering skills by living so close to Mexico for so many years. :)
Anyway, snow is in the forecast this weekend and the black beast slips into 4-wheel drive on the fly with a push of a button. By the way, she's a 1999 Chevy Silverado with more miles than me. I took her in for a 'physical' and she's also in better shape than me. By golly, we'll make this journey together! Oh, and she needs a name. Any suggestions?
Rumble, rumble, rumble.