I reached a point of having to stop, these last few days, of giving up any idea of meeting any commitments whatsoever, be they walking or blogging or anything else. I couldn't write because I didn't know where my head was at and knew that I'd write myself into some kind of position which would only be a small part of it, but telling it all was too much, so no, no writing.
I still don't know where my head is but I made another dress today. All right, I'll go and take a picture, hang on, here you go: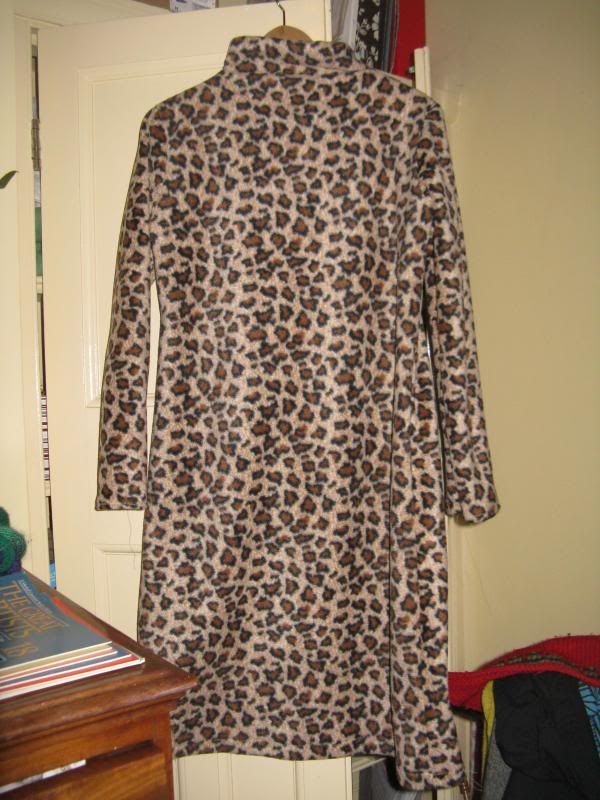 It looks bit shit hanging up, but I've only a small mirror and can't do a self-portrait that gets more than a small section in if I'm wearing it. I like it better than the zebra because the fleece is a bit thicker and because on the zebra the neckline is too low, especially at the back. These are meant to be warm and that's completely spoiled if you have a draft down your neck, that even a scarf can't cure, as there's still a gap. So I freestyled and cut the fabric straight up from the inner shoulder seams and it worked. Yay. The down side is that being cheap artificial fabric made of god knows what, squeezing my head through makes my hair hideously electric, but there you go, can't have it all and this will do me.
Grateful for: Visits and lots of hugs from both Son and YD (separately) over the weekend; both of them being fine - YD has been making papier-mache birds (blue tits, swallows and humming birds) and selling them on a market stall, Son is all fired up with his latest Phd proposal; deciding a bit less oppressed since I decided to ignore Christmas this year - I'm just not doing it, don't feel in any way celebratory so not going to pretend (buying presents for YD, Son and GS, not even ED as she doesn't really notice anything, and no one else) - no decs, no cards, no extra food or drink - such a relief; the prospect of sewing more; living on a hill, with zero risk of or worry about flooding
Laters xxx