My wise daughter (YD, obvs) told me yesterday that when her best friend died last year she'd (eventually) found this video of a guy talking about grief very comforting and helpful. As I have no idea who's reading this, I'll post it, in case some of you have your sorrows
The gist of it is that... no, the gist cannot be summarised without appearing cheesy and useless. I think it's good, but there is no magic wand, you have to let whatever will be just be. Or you can become bitter and twisted, that's always available as an option, or you can kill yourself.
I was going somewhere with that but it's escaped, flittered away, out of reach. Probably just as well.
This afternoon I contacted the MS society helpline, and spoke to a delightful woman and later to a local one who called me this evening. Such a relief. Because what I need are some peers, some others whose children are in this hinterland between existence and death. (And what I need to remember is how new this is, how suddenly ED has fallen away, and to let myself be.) She's going to call me back tomorrow with some info.
I should know by now that if I want a pic of me, Bloke is the last person I should ask to take it. He'll pick up the camera and immediately take one shot, look at it, decide it's fine, job done. So this is me, in my frock, with my hoover (Dyson in fact, but all called hoovers over here), because I cleaned the rug before laying my fabric out yesterday, and it was only when looking at the pic on the computer screen that I noticed the fucking thing was still sitting where I abandoned it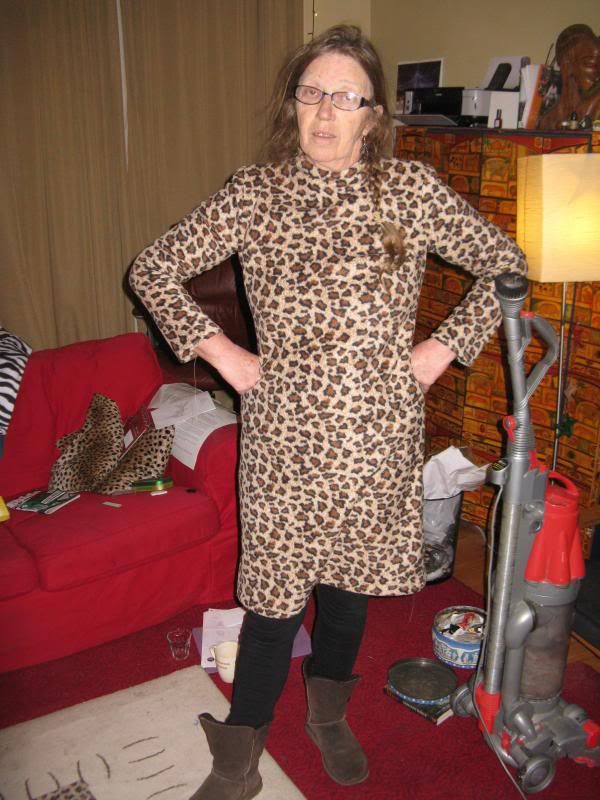 I'm not a particular fan of the animal print - having said that, I realise I have two leopard print cushions, clearly visible, but they were Ma's and I do kind of like them, yes and I've got the coat, but that was hers too, from the 60s - what I wanted was warm and easy, so fleece, and I have to say these two, this and the zebra, were the best of a shockingly bad lot. Animal print is always taken as some kind of statement around areas of sexiness, trendiness (or lack thereof) and so on, in a way that just doesn't happen to checks or stripes, but I don't give a fuck.
Seeing this next picture on the big screen inspired me to make an optician's appt as I couldn't tell on my camera screen that it was blurry. This is a new addition to the room where I do yoga: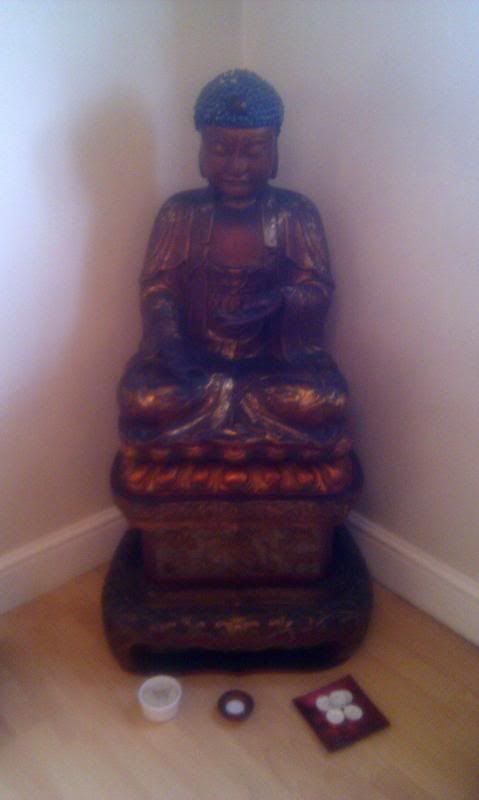 I love yoga. I love doing it now, in these years when I truly don't care what passing strangers think of me, and do what I can in peace. I'm too agitated to be able to do balances in a class; I know that they would calm me if I could muster the focus required, but I can't. Today I told the teacher I would use the wall to assist me (you try and balance very close so when you topple you touch the wall and can gently push yourself away again, rather than having to ground one leg, bring your foot back up to your inner thigh and raise your hands above your head, which all takes time). I'm so glad to have found this drop-in class - I would recommend it to everyone. The benefit doesn't come from
achieving
the poses as demonstrated by those who've been doing it for years, so much as moving your body in these ways, towards those positions, and it always takes your mind along as well, to a more peaceful place. Energising. When I rule the world, every school day will include some yoga for both staff and pupils, in fact every working day as well. And singing. Karaoke - a good bellow of "I will survive" would improve most days, don't you think?
Or is that just me?
I love this video too - persevere - Jimmy Somerville, the guy who wrote and sang the original, happens along
When the kids were little and we lived in a shit flat with a shit landlord and no money, sometimes it would all go pear-shaped and to cheer us up I'd put this on and we'd all dance to it:
though when I listen to the lyrics I think, really? But we did, it made us happy. Still does - I love that little Jimmy Somerville. That was around this time - look at those glasses, marvellous:
I'm not posting pics or identifiers of them as they are now, but I think we can get away with that, it has to be twenty-five years ago, at my parents' house.
Today I have been grateful for: ED being alive and not dead; yoga; music; friendly comments; a feeling that I might make some Christmas cards tomorrow, not Scroogella after all. Perhaps.
Laters xx