1. Realised I've let myself become re-addicted to benzodiazepines or whatever the fuck they're called. Some part of me knew that all the different sleeping pills I've been managing to blag from various people were all the same thing but I didn't let myself hear. I suddenly registered yesterday that the combination of physical and mental shit was familiar - of course it was. I was livid and scared and god knows what else. Decided to just take another pill at bedtime and deal with it later. YD called today, wasn't for a second fooled by my attempt at a bright and breezy 'hello' so I told her all about it and she said to just let myself be with it for a while. I think I will, though this may be liable to change.
2. I cooked two dinners last night, one for tonight in case I ran out of energy. Left the heat on full under my non-stick frying pan and didn't realise till the flat was full of smoke (I'd been thinking my glasses were all salted up from walking by the beach, and there are thirty steps from my soaf to the kitchen), and the pan was burnt to fuck. But - it is now as good as new, with zero elbow grease and zero vicious products, after soaking overnight with a dollop of bicarbonate of soda in the water. Not sure what bicarb is called in the US - it's what you use for baking but it has other uses. This evening I scraped off what I could with a wooden spoon and found some really hard, immoveable, black bits so I put in some fresh water and another spoon of bicarb and brought it to the boil on the hob. Job done - after that it came clean with a sponge.
3. I'm still twitchy as fuck - a bit manic, can't relax - offering household tips, for fuck's sake, what that about? Didn't make it to yoga on Monday but there's a restorative yoga drop-in tomorrow that I'm aiming for, with a more urgent intent.
4. Became a bit paranoid last night and locked all my old blogs. I hope I reach a time when I can extract a memoir from them - I feel there's a whole load of different strands that could be extracted if only things would settle down enough for me to gather my wits about me. Who knows?
5. Today I am grateful for: YD and her wisdom; a warm flat; not being at the mercy of scary weather, only on the windy fringe: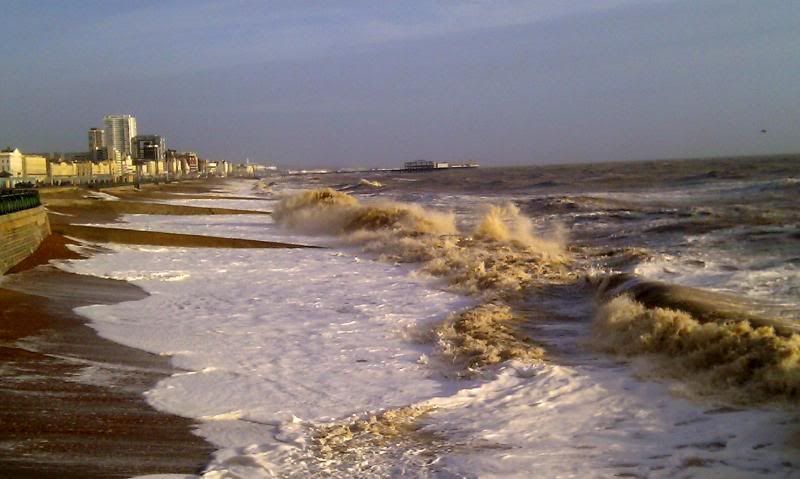 yoga tomorrow; being able to use this slightly manic energy purposefully
Sweet dreams x